Start screen is a big new thing in Windows 8 from which you can launch all of your installed programs. When you install an app (desktop app or Windows Store app) its tiles will be placed in the Start screen. It becomes a main place to do anything you want. Even now, you have the ability to uninstall apps when you are in the Start screen. In previous versions of Windows, you can uninstall apps by using Control Panel. However, Windows 8 only allows uninstall Windows Store apps directly from Start screen; for desktop apps, you are still need to using Control Panel. Sometimes, you may want to prevent a user from uninstalling a Windows Store app to avoid problem with your apps. In this article, I will show you how to do this with Local Group Policy Editor.
HOW TO UNINSTALL WINDOWS STORE APP
If you haven't known how to uninstall a Windows Store app in Start screen, you can do it by right click/long tap on the app's tile then choose "Uninstall" button in the app bar.
HOW TO PREVENT USER FROM UNINSTALLING WINDOWS STORE APP
To disable the Uninstall button in the Start screen, you can follow these steps.

Open "Settings Search" by pressing Windows + W hotkey (if on a tablet, swipe from the right edge of your screen, tap "Search", and tap "Settings").
Then you need to type "policy" and select the result "Edit group policy."
In Local Group Policy Editor window, on the left side, you need to navigate to this location:
User Configuration/Administrative Templates/Start Menu and Taskbar
You will see the setting "Prevent user from uninstalling application from Start;" what you have to do is double click it.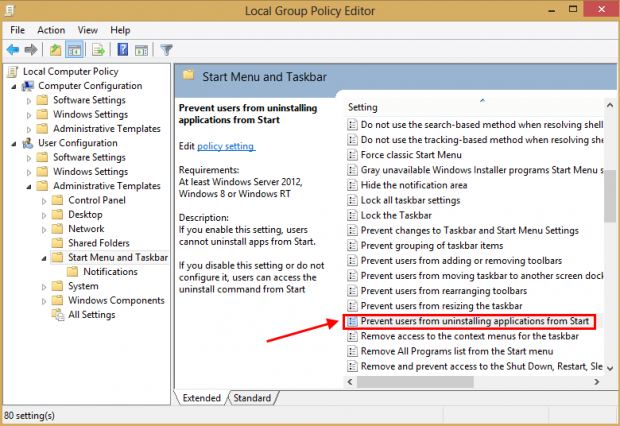 In the new window, you just need select "Enabled" and click OK to apply the change. Then you are done.

CONCLUSION
Enjoy!
Related Posts