Like many older versions of Windows, Windows 8 definitely supports multi-account. However, a small change that annoys some users is it automatically shows only the last signed out user on the login screen instead of displaying all users of the system. At the login screen you can click/tap the small arrow button in the UI to show all users but that can be a bit annoying to always do to see all users. Therefore, in this article, I will show you a tweak to make Windows 8's login screen always display all users.
CAUTIONS
I found out that once you applied this tweak, the Lock screen will be go away. That means in the startup process, it will only show you the login screen.
Additionally, if you want this tweak work, you shouldn't change the color scheme in PC Settings after finishing the tweak. Once you has change the color, you have to do those steps below again.
HOW TO ALWAYS SHOW ALL USERS ON THE LOGIN SCREEN
First of all, you need to know that we will make some change in the Registry, which is a very sensitive part of Windows, so that you may want to backup your Registry before do anything with it.
After that, you should follow these steps to always show all users on the login screen.
Open Registry Editor by pressing Windows key then type "regedit" (without the quotes) and choose "regedit.exe" result on the left. If you are using a tablet, you should wipe from the right screen edge, select "Search" then type "regedit" and choose "regedit.exe" result.
Once Registry Editor has opened, in the left side, you need to navigate to this location:
HKEY_LOCAL_MACHINE\SOFTWARE\Microsoft\Windows\CurrentVersion\Authentication\LogonUI\UserSwitch
In the right side, you will see "Enabled" value. What you have to do is double click it then change the value in "Value data" field to "1."
Now, you're done. You need to restart your Windows to apply the change.
Just remember that the default value of "Enabled" is 0, so when you want to show only last signed out user like before, you just have to change the value to 0.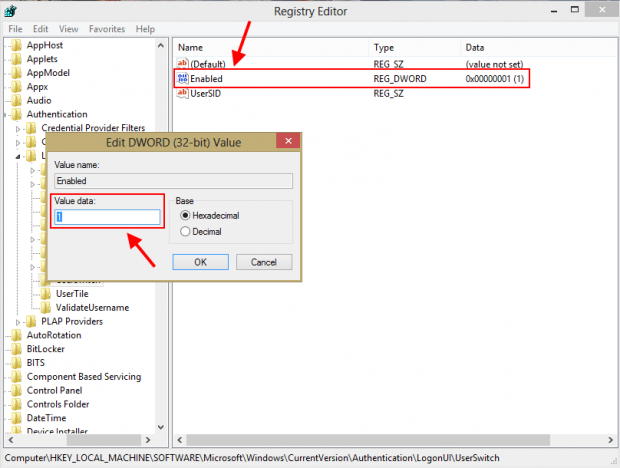 CONCLUSION
I have a Guest account on my laptop but no one can find it on the login screen because of this default setting. Thanks to this knowing, my problem now is solved. Hope you will too.
[via Eightforums]
Related Posts