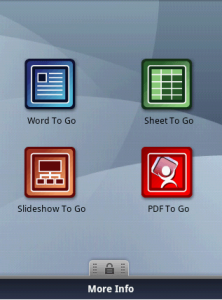 Do you want to view documents on the go? I am talking about Word, Excel and PowerPoint documents. Now you can, and you can do it all with just one app! Documents to Go is a program that allows you to view tons of different documents right on your smartphone. It is perfect for business travelers who can't always access their laptops easily.
WHAT IS IT AND WHAT DOES IT DO
Main Functionality
Documents to Go is a program for Android devices that allows you to view Word, Excel and PowerPoint files and attachments. The program confirms that it is compatible with the following file types: DOC, DOCX, XLS, XLSX, PPT, PPTX and PDF.
Pros
View the following document types on your phone: DOC, DOCX, XLS, XLSX, PPT, PPTX and PDF
Easy to use
Documents are easy to read, as you can adjust the size of the text
Tables and charts display with no problem
Convenient to view all of these file formats in just one app
Does support password protected files
Allows you to download and view documents from Google Docs directly
Works seamlessly with Documents to Go desktop app, which allows you to easily sync documents from your computer with your phone over USB
Cons
In order to edit documents on the go you will have to purchase the "Pro" version, which costs $14.95
Discussion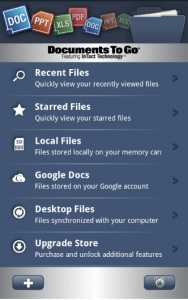 I am a big fan of apps that actually help you stay productive even when you are on the go. That is why I wanted to give Documents to Go a try. The program itself is very nicely done, but there are a few drawbacks to using the free version. First, however, we are going to cover the things I liked about the app.
Documents to Go allows you to view the following file types right on your Android device: DOC, DOCX, XLS, XLSX, PPT, PPTX and PDF. Every file type that I tried to display worked perfectly. This did include PDF files with graphics. I was also able to successfully open a Word Document that was password protected. This is something that I have had trouble with in the past when using other document viewers.
Another cool thing about Documents to Go is all of the connectivity you get. When choosing to view files, you can look on your phone or in Google Docs. If you have files saved to Google Docs, you can easily view them right from your phone in Documents to Go. You can also easily transfer documents on your computer to your phone with a USB cord. If you use this method a lot, you may also want to check out Documents to Go's desktop app, which helps you sync files between your phone and your computer.
The biggest problem, and possibly a dealbreaker for some of you, is the fact that you cannot edit documents…at all! Well, let me clarify that. You can, just not with the free version. This version of the program is only for viewing documents. If you want to edit documents on the go, you will need to by the pro version, which costs $14.95. Really, that is not a bad price when you consider the freedom it gives you.
CONCLUSION AND DOWNLOAD LINK
While there are other document viewers out there, I feel that Documents to Go does a great job in displaying your files in an easy-to-read format. Also, with how seamlessly it works with Google Docs, I feel this is a great app for people looking to read documents on the go. If you really like the app, you may want to consider upgrading to the Pro version so you can edit your documents as well.
Price: Free
Version reviewed: 3.004
Requires: Varies by device (tested on 2.3.4)
Download size: 5.3MB
Related Posts