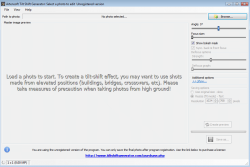 Have you ever used a tilt-shift lens? I know I haven't! Not because I didn't know what they were, but because I never had tons of money to spend on one. I have always been kind of curious what it would be like to take pictures with such a lens. Although Tilt Shift Generator won't show me how it feels to "take" a picture with that lens, it can at least make my pictures look like they were taken with such a lens.
WHAT IS IT AND WHAT DOES IT DO
Main Functionality
Tilt Shift Generator is a program that you use to make your photos look like they were taken with a tilt-shift lens. This program allows you to take pictures already stored on your computer and give them that tilt-shift effect. This can actually help you reproduce the appearance of a "miniature scale model" in post processing. This means, you are no longer restricted to the angle that you took your picture at in the first place.
Pros
Generate that tilt-shift look on pictures you have already taken without a tilt-shift lens
Saves you money, because the program costs a LOT less than buying a tilt-shift lens
According to forums, the program gives you more options than what a typical tilt-shift lens would give you (can't confirm, as I have never used such a lens)
You won't lose the convenience of taking pictures with your auto focus camera. Just touch them up with Tilt Shift Generator (tilt-shift lenses are not auto focus, they are manual)
Cons
Trial version leaves watermarks on the pictures you make
Program can be tricky to use. Takes a bit of time to fully understand how to use the program properly
This same effect can be achieved with other free photo editors
Discussion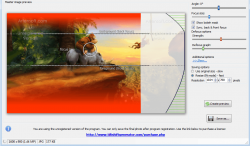 I have never used a tilt-shift lens, but I have seen pictures taken with them. I always felt that the lens gave pictures a very unique look. However, apparently some of these really good lenses can cost upwards of $2,000. As I'm not a professional photo taker…that is money I don't have to spend on a lens that I may or may not use correctly. That is where Tilt Shift Generator comes into play.
In short, Tilt Shift Generator is able to produce a natural-looking miniature model at a fraction of the price of a real tilt-shift lens. The program allows you to easily simulate a miniature scene. Now, when I say "easily", I mean in terms of how you would pull this off without this program. Using the program itself can actually be kind of challenging at times. This goes double if you don't know much about tilt-shift lenses to start with (like me).
The coolest thing about this program is the fact that you can apply this look to photos you have already taken. That is something that you can only do with a select few photo editors. Not only that, but the other photo editors that do offer such an option usually don't label it as "tilt-shift". However, you would still be able to achieve the same look by using different tools. Once again, this gives an edge to the Tilt Shift Generator since it is designed to give pictures that effect in the first place.
Now, what if you already have a tilt-shift lens? Is this program worth it? The short answer is yes! Apparently, when you use a tilt-shift lens, you tend to sacrifice the convenience of having a modern auto focus camera. Since tilt-shift lenses are not auto focus, you have to do everything by hand. This can be tricky for someone who doesn't know what they are doing (once again…me).
CONCLUSION AND DOWNLOAD LINK
This program is apparently being marketed to a very niche market. After all, if you don't know what a tilt-shift lens does, you could probably go the rest of your life without knowing. That being said, if you want to know or have been looking for a cheaper solution for your "tilt-shift" needs, this program is at least worth trying out. After all, you can test out the free trial before buying via the link below.
Price: $49.95
Version reviewed: 1.0
Supported OS: Windows XP / Vista / 7
Download size: 7.9MB
VirusTotal malware scan results: 0/46
Is it portable? No
Related Posts