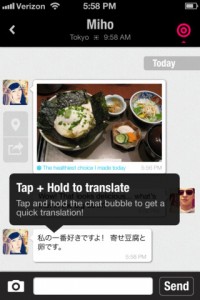 Sometimes, the apps we loved a year ago are the apps we ignore today. About a year ago, I was really big into an app called Wander, which pairs up users with "virtual guides" from all over the world. You are matched up with your guide for seven days. During that time, you are both given a series of photographic missions: you might share an image of your meal, while they send an image of some stunning local architecture. You were given one "potential guide" each day: if you didn't like the looks of them, or their location, then you could pick a new guide the next day.
I was an avid Wander user about a year ago. I had a couple of guides from Korea, one from Hong Kong, one from London, and a really great guide from Copenhagen. However, my interest waned after I got offered a string of dud guides: people who were either being inappropriate or non-responsive. I've been thinking about Wander a lot lately, however, and decided to see how the app has evolved over the last year.
What is it and what does it do
Main Functionality
Wander connects users from around the world with another real person for a seven day period. Users can share photos of their city and daily life, and also engage in conversations with their new virtual "penpals."
Pros
Tap-to-Translate means you can communicate with anyone in the app — regardless of whether or not you share a common language
Guides come from 80 countries around the globe
You can choose "Quick Guide" settings to get the next available guide assigned to you, or retain the option to manually approve your daily match
Ability to "mute" (aka block) annoying users
Simple to navigate, great-looking modern design
Cons
The quality of your experience depends on the quality of your guide
Strange error messages keep popping up (mostly about my perfectly functioning network connection). This was an issue in previous years as well, though the error messages then were even buggier
It seems unfair that you only get one match per day, especially in cases where you decline your match because they seem sketchy, or because you've already had a guide in that country before.
Discussion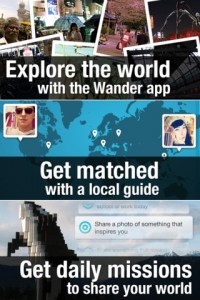 Despite some issues with the guide selection process, I really do commend the way that Wander makes it easy to share authentic, personal experiences with people from other cultures. The prompts for each photo are really varied, running the gamut from things like "what I am most proud of" to "street art" to "the healthiest choice I made today" to "the view from where I am right now."
Photos are a great way to share the minutiae of a person's day, and often it's the little things that matter most in a person's life. Using Wander is like Instagram, but better: you get a fuller picture of what the photographer's life is like.
I just wish that you were required to upload a user photo: looking at a picture of someone is a great way to determine if you'll get along. I hate to make blanket statements, but connecting with a user who has no user pic is often a recipe for disaster. Forcing people to put their picture on a profile would create a better sense of community, and help users to feel more connected to the app.
Conclusion and download link
Wander is a great way to meet people from around the globe, and make lasting friendships. However, your experience is only as good as the person you are paired with. And if you get paired with a non-responsive or boring person, you're stuck with them for a full week. With those caveats in place, however, I'm happy to recommend Wander to anyone who fancies themselves to be an "armchair traveler."
Price: Free
Version reviewed: 1.7.5
Requires iPhone/iPod Touch/ iPad, iOS version 4.0 or later
Download size: 6.1 MB
Wander on Apple App Store
Related Posts