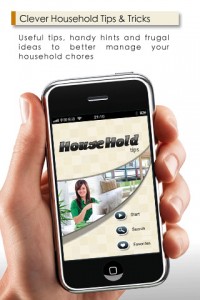 Okay, let's be honest: nobody likes cleaning. But when you take a "life hack" approach to chore, even cleaning can be kind of fun. Household Tips & Tricks is packed with tons of these clever hacks, with info on everything from how to get gum out of someone's hair to how to get the smell of garlic off your skin.
What is it and what does it do
Main Functionality
Household Tips & Tricks provides clever hacks, hints, and tips for household and general life problems. In addition, the app lets you share cool tips on Facebook, and bookmark the best hints for easy reference later.
Pros
Fun to browse
Includes tips related to food, clothing, pest control, chores, pets, and more
Cons
"Search" function is a misnomer: you don't get a search bar, but rather a scrolling list of items that aren't even in alphabetical order. It's disorganized and hard to find something you need quickly.
"Flip" button to turn over a virtual index card to read the back of it seems like an unnecessary step
Ad-supported, with banner ads that block some text
Users have to scroll down to read text blocked by the banner ads, and hold their finger in place to keep the text from scrolling back up
Annoying pop-ups
Some sections include typos
Some sections take a long time to load, leaving you with an all-black screen for several seconds
Discussion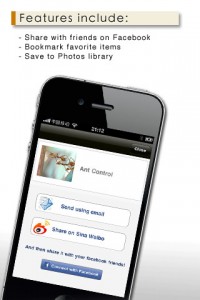 Did you know that you can use lighter fluid to get gum out of your hair? Neither did I…and I used to write for a site that was all about clever life hacks (and I've read a couple of books on the subject of life hacks as well.) Needless to say, any app that provides me with a cool trick I hadn't heard before gets big points with me right off the bat.
That being said, this app is really much better for browsing than for searching during a time of crisis. There is no real search function to speak of, and many of the tip headings are a little confusing as to whether it's the problem you're treating, or the tool you use to treat a problem with.
Household Tips & Tricks is a solid resource for learning new information, and the tips themselves are high quality. It's a good thing you have the ability to bookmark choice passages, however…because otherwise, this app would be really hard to navigate.
The tips themselves are easy to follow, and the app includes literally hundreds of tried and tested household ideas for helping you out of a jam, be it removing old wallpaper from a wall or organizing a sewing kit. There's something for both genders to enjoy here.
Conclusion and download link
These handy hints will save you time, money, and frustration. Plus, you'll have something cool to impress your friends with the next time one of them is in a jam. If you are into DIY or life hacks, this is an app worth perusing.
Price: Free
Version reviewed: 2.0
Requires iPhone/iPad/iPod Touch, iOS version 3.0 or later
Download size: 12.8 MB
Household Tips & Tricks on Apple App Store
Related Posts