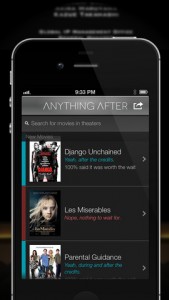 I remember when "Iron Man" came out in 2008, and how angry people were when they realized they were supposed to stick around until the end of the credits to see the "bonus scene" with Samuel L. Jackson. Most of the time, a movie theater indicates whether there is a post-credits scene by keeping the house lights down low. But if you want to make doubly sure that you won't miss anything by leaving the theater before the credits are over, you should check out Anything After, an app developed by Damien Dalli.
What is it and what does it do
Main Functionality
Anything After is a tool that lets users know which films have post-credits scenes (aka "stinger" scenes.) In addition, users weigh in on whether these post-credits scenes are worth sticking around for.
Pros
Remarkably for such a new app, Anything After was crash-free during testing
Films are organized by what's currently in theaters, and what's new/coming soon
A blessing for anyone who's dying for a trip to the bathroom after downing a giant soda or bag of candy
Easy to send feedback from within the app
Cons
For voting, Anything After uses Facebook as the login system (but the developers have said they are open to adding Twitter login as well in future updates)
The app currently only tracks stinger scenes in movies that are coming soon or in theaters (if you want to know whether your DVD/Blu-ray copy of a film has a stinger, you'll have to find out the old-fashioned way.)
Since the app only provides info for coming soon/in theater movies, it would make more sense to organize titles alphabetically for easy browsing
Discussion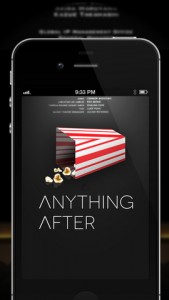 Released about a week ago, Anything After is a great resource for anyone who want to get the full value of their admission ticket. There's nothing worse than leaving the theater and learning later that you didn't see a scene in the movie that you paid for. It's also great that users can send feedback so easily from within the app.
One thing that is really disappointing is the lack of "stinger" information for movies that aren't new releases. The overall app experience would be a lot more comprehensive if it included info about post-credit scenes for movies that are out of theaters and on store shelves. Hopefully, this will be addressed in a future update.
What Anything After gets 100% right (besides the killer design aesthetic) is the ability to rate these stinger scenes. Now, users will know if there are scenes in the first place, and can then make an informed decision about whether the scenes are worth sticking around for.
Conclusion and download link
Anything After is free for a limited time, so you should scoop it up now. By the time summer blockbuster season rolls around, you'll have a great tool in your app arsenal to keep you in the know about which films have post-credit "stinger" scenes and which films do not. It's annoying that it only tracks stinger scenes in movies that are in theaters now, but hopefully future updates will include a comprehensive list of films on DVD and Blu-ray that have stinger scenes.
Price: 99 cents (currently free in a time-limited promotion)
Version reviewed: 1.0
Requires iPhone/iPad/iPod Touch, iOS version 5.0 or later
Download size: 5.9 MB
Anything After on Apple App Store
Related Posts