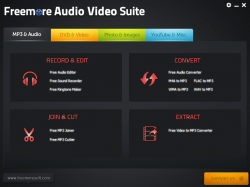 Freemore Audio Video Suite is one of those programs that has it all…well, in terms of audio and video and image that is. The program contains a ton of different tools that allow you to back up, share, create, and even enhance your video and audio files. It even comes with a YouTube downloader and an image converter.
WHAT IS IT AND WHAT DOES IT DO
Main Functionality
Freemore Audio Video Suite is a do-it-all like program. If you are looking to convert, download, edit or burn audio and video files, this is the program for you. In truth, the program does so much that it is hard to cover it all. Either way, it is nice to see all of these programs bundled together in one program.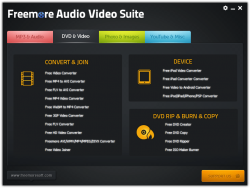 Pros
Converts audio files between popular formats
Allows you to record and edit audio files
Comes with a YouTube downloader to help pull videos from YouTube
Can convert videos between popular formats  to make them easier to play back on portable devices
Comes with image tools that allow you to create slide shows, create animated GIFs from videos, and convert between formats
Ability to stream TV and radio
Can be used to create ringtones for your phone
Audio and Video file combiner
Can create and rip CDs and DVDs
Create and rip ISO files from discs
Offers "Scan to PDF" abilities
Can merge and split PDFs
…And more
Cons
Caused my anti-virus system to detect a "Virus" despite coming up clean on VirusTotal. More than likely a false positive, but worth pointing out.
DVD ripper won't bypass DRM protection.
Discussion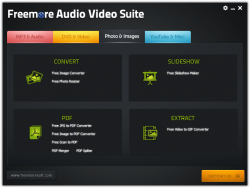 It is almost impossible to cover everything that Freemore Audio Video Suite does. In fact, once you open up the program, it is almost overwhelming. Thankfully they have everything broken up into easy-to-understand categories. At the top of the program you will see a series of tabs. Clicking on a tab, like the YouTube tab, will bring up other options related to that category.
Now, as I already pointed out, this program does a lot, so it would be nearly impossible for me to try out all of the program's features. However, I will talk a bit about the features I was able to try. This does include downloading videos from YouTube, converting video and audio files and making my own animated GIF.
All of the features I tried worked well. Downloading from YouTube went quick, and I was even able to convert the video to whatever format I wanted. Speaking of converting, I was able to successful convert WAV files to MP3, as well as convert AVI to FLV. Although there are tons of other conversions available, these were the only ones I tested out.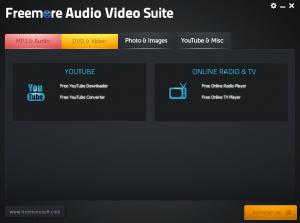 Please note that the program does a lot more than what was listed here. I noticed while going through the features that it can also stream audio and video, burn CDs and DVDs and even create ISO images. In short, this program offers enough features to keep you coming back for more.
I would like to take the time to point out that my anti-virus system did pick up a threat while trying to install. I was able to move the threat over to my "chest" to avoid it being released on my computer. I would be interested to hear if any of you experience the same problem while attempting to install this program. It may just be a false positive since VirusTotal did not find any threats, but it is worth pointing out.
CONCLUSION AND DOWNLOAD LINK
Freemore Audio Video Suite is a program that shocked me. Usually when a program offers all of these different abilities, they tend to be lacking. However, for a free suite, this programs works great. If you are looking for a program that can do any of the things listed above or your computer is overrun with programs that do only one of these tasks each, you may want to give this program a try. At the very least, it could help free up room on your computer by clearing out other programs that would be made redundant.
Price: Free
Version reviewed: 3.4.1
Supported OS: Windows XP / Vista / 7
Download size: 30.6MB
VirusTotal malware scan results: 0/45
Is it portable? No
FreeMore Audio Video Suite homepage
Related Posts