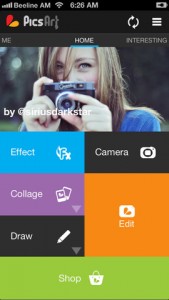 Who wants an app that only does one thing? The best apps are the ones that deftly combine two related sets of functions to create a super-app. Like peanut butter and jelly, PicsArt Photo Studio combines two great ideas in one tasty-looking package: you can edit images, while also having the power to sketch and draw in the same app. PicsArt might not be a familiar name to iOS users. While the iOS version just came out on January 2nd, PicsArt has long been a respected app on Android devices.
What is it and what does it do
Main Functionality
PicsArt offers a robust suite of image filtering and editing tools, as well as the ability to arrange your images in a variety of collage patterns. On top of that, you can also use a variety of tools to sketch and draw images. Additionally, the PicsArt app includes a photo-sharing service.
Pros
Home screen features a constantly rotating set of images from other users
Sign in with either Twitter or Facebook
Interesting images of the day from other users are accessible with just a swipe of the finger on the home screen
Despite such a huge set of features, the app is incredible well-organized and simple to navigate
Tagging system keeps pics organized
Share it with others via Facebook, Twitter, Dropbox, or the PicsArt network. You can also save it to the camera roll.
Cons
Some users would probably rather share their images via Flickr or Instagram, and may not be interested in an app that can do this easily (no matter how good the editing tools are). However, you can pull images easily from Picasa or Flickr using the "Interesting" browsing feature
Some banner ads
Crop feature is somewhat limiting: it's hard to get a customized crop in some situations, which is frustrating
Discussion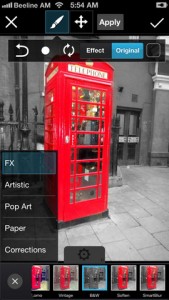 PicsArt's tagline is "Where everyone becomes a great artist." And with such a huge array of photo editing and drawing tools, it's a claim that I think the app really lives up to. The Picture Editor lets you manipulate photos, build collages, add borders and frames, affix virtual stickers or text, crop, rotate, and adjust colors.
In addition, you can slap on some cool effects to add a pencil, watercolor, cartoon, vintage, or many other looks on your images. There are tons of great brushstroke tools to use as well.
It's worth noting that PicsArt contains a 'Shop' section that is dedicated to downloading "clipart" icons for offline use. Most items in the Shop are free, which is nice: nobody likes getting nickeled and dimed through in-app purchases. There are some cool visual elements here, most of which are related to holidays like Day of the Dead, Valentine's Day, Christmas and more. There are also Summer themes and a cool Japanese theme that includes clipart, frames, and background images
Conclusion and download link
PicsArt has been a long-awaited addition to the App Store. Even though this is only version 1.0, this app was stable, robust, and tons of fun to play around with. Download it now and see what all the fuss is about. I'm pretty sure you'll love the layout of this powerful, versatile app. It's a one-stop shop for all your visual art needs.
Price: Free
Version reviewed: 1.0
Requires iPhone/iPad/iPod Touch, iOS version 5.0 or later
Download size: 12.5 MB
PicsArt Photo Studio on Apple App Store
Related Posts