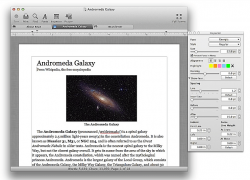 A quick search of Amazon tells me that Word for Mac 2011 will cost you the exorbitant sum of $120 (not much of a savings off the list price of $139.99, is it?) So what's a cash-strapped writer to do? Thankfully, you don't have to resort to piracy to get a decent word processor for your Mac. Most people gravitate towards the free OpenOffice software, but I have another idea. My top pick for free word processing software on Mac OS X is Bean, a stripped down, simple program that works great.
What is it and what does it do
Main Functionality
Bean is a lean, simple word processor that takes up very little space. As a result, doesn't have the loading or lag issues that bulkier programs (like Word) struggle with.
Pros
Far more stable than OpenOffice, in my opinion. (OpenOffice has a tendency towards corrupt files, an issue I've never once had with Bean)
Free software that takes up very little space
Uncluttered interface, with the ability to customize the look by placing tools that you use most often along the top edge
Live word count that updates as you write
Loads very quickly when compared to Word or OpenOffice
Cons
Bean doesn't do footnotes or use stylesheets
Only partially compatible with Word's file formats.
Beans allows in-line graphics, but not floating graphics.
Bean cannot import images contained in native Word 97 format files.  Images are lost when opening a native Word 2007 format file in Bean and when saving a rich text document as a Word 2007 format file in Bean.
Also, Bean does not read in page size information or margin information
Hyperlinks are imported as text, not as hyperlinks
Sadly, Bean is no longer being actively developed
Spellcheck isn't quite as solid as in Word
Bean 3.x is closed source. However, Bean 2.4.x is open source (you can download source code here).
Discussion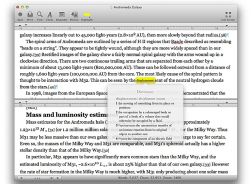 I love Bean. I really, really do. Looking at the long list of of "Cons" above, you'd think that I wouldn't like Bean. And while it's true that Bean isn't the most robust word processor out there, sometimes what you want is a streamlined, simple piece of software that will simply let you write, with minimal distractions. I've been using Bean since version 2.4.2, and it's pretty much the only program I use for writing.
As Bean puts it so succinctly on their site, "MS Word, OpenOffice, etc. try to be all things to all people, but sometimes you just want the right tool for the job. That is Bean's niche." Bean natively reads and writes these file formats: .rtf, .rtfd, .bean, plain text, .webarchive. In addition, Bean transparently imports and exports in .doc, .docx, and .odt.
Sadly, my beloved Bean is no longer being actively developed. On the Bean website, developer James Hoover issued a statement as to why this would be the case. Here are some of his most salient points:
"The venerable Bean word processor has been around since 2006, evolving while keeping a focus on speed, stability and simplicity. After the release of Bean 3.2.2, active development of Bean will cease. Bean will remain available for download at the bean-osx.com website. It may even be updated as necessary to keep the app running on future versions of OS X.

I am retiring Bean for several reasons. Mainly, I have less and less free time to devote to this hobby. Plus, for technical reasons, Bean's tabbed document interface is incompatible with Apple's latest technologies (native Full Screen, Autosave and Versions). Also, fewer and fewer people will use Bean in the future since I do not publish Bean on the App Store (which sells numerous closed-source rip-offs compiled from the GPL v.1-licensed Bean 2.x source code). For many, plain text is king and iPads rule. For others, Google Docs is free and ubiquitous."
Despite the fact that Bean is withering on the vine, the software is still excellent. Out of all the various word processors I have tried over the years for my Mac, Bean is my absolute favorite. And trust me: as a writer, I've tried nearly every available word processor that's OS X compliant.
Conclusion and download link
While Bean isn't being actively developed, it's still a lean, mean, word processing machine. Helpfully for older computers, the Bean site still contains download links for Bean 3.1.1 (compatible with PowerPC processor Macs running OS X Leopard 10.5+), and even  Bean 2.4.5 (compatible with OS X Tiger 10.4+) Don't be afraid to try out Bean: it's a wonderful program that's never once corrupted, ruined, or otherwise damaged one of my documents. I'll never stop using it.
Price: Free
Version reviewed: 3.2.4 (released 12 January 2013)
Requires OS X 10.5+, Intel only
Download size: 3.1 MB

Related Posts