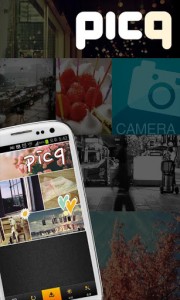 picq is a great app that will merge existing photos into an incredibly attractive photo collage. This app is great for users who want to represent a single event with a single picture to simplify sharing. It is also great for those who like putting creative twists on their photos to make sharing with friends and family more interesting.
What is it and what does it do
Main Functionality
This app is essentially designed to be a simple and functional app to create photo collages. It is meant to express your daily life in one photo so you don't have to flip through multiple pictures in order to get a thorough idea of an event.
Pros
Merge up to 9 photos
Customize slideshow on main screen of app
Control collage layout or choose from pre-designed shapes
Edit photos and add effects
Variety of stickers, backgrounds, and frames
Cons
Cannot view collages natively
Cannot share collages natively
Discussion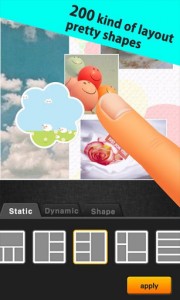 picq is an app that attempts to challenge an already well-established market. There are plenty of collage-making apps in the Google Play Store, so it can be risky move when a new app enters. picq aims to find its own niche by offering an intuitive interface as well as a fantastic way to adjust the photos in your collage. Giving you almost 10 photos to work with, picq can accurately describe nearly any event with one, single picture. You will additionally get all of the expected extras like stickers, boarders, backgrounds, etc.
Once you start using picq, you will notice the over all outcome will be quite similar to apps you've used in the past. However, picq's interface is incredibly refreshing as it makes actually creating the collages incredibly simple. Once you've added your desired pictures, you can drag, adjust, and re-size all of them with your finger. This will give you complete control over how you want your final photo to look. No other app in the market allows you to individually adjust the photos before you finalize your collage.
The major flaw with this app is the lack of ability to do anything beyond creating a collage natively. This means that you cannot even view your created colleges in the app. If you wish to do this, you must go into the gallery application in the OS. Additionally, all sharing functions must be done from within the gallery application as well as you cannot share anything within the actual app. This is pretty inconvenient as sometimes, you want to keep your collages separate from the pictures you used to make them.
Conclusion and download link
With the exception of the minor shortcomings when it comes to native actions, this app is generally pretty great. While it is pretty similar to most collage apps, the ability to adjust individual photos manually will certainly be the aspect that stands out the most. Other than that, there isn't a whole lot that makes the app unique. However, the developer is certainly headed in the right direction and this app could potentially become a big player in the targeted market.
Price: Free
Version reviewed: v1.0.9
Requires: Android 2.3.3 and up

Download size: 6.5 MB

Picq on Play Store
Related Posts