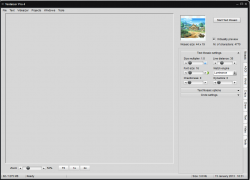 At some point in your life, I am sure you have come across a picture that is made up of nothing but words. I have always found pictures like that fascinating and have wanted to create them myself. That being said, I have never wanted to spend money on such an idea. Thankfully, with Textaizer Pro, I can try my hand at making some of these works of art, without spending a dime.
WHAT IS IT AND WHAT DOES IT DO
Main Functionality
Textaizer Pro is a free text mosaic creator. The program is very simple to use but can be kind of hard to master. You start off by choosing a picture you want to make a text mosaic of. After choosing a picture, all you have to do is set your parameters, and let this program do the rest. With so many choices, you are bound to come up with the perfect text mosaic.
Pros
Turn any picture into a text mosaic
You have the ability to adjust text spacing, size, font, color correction filters, etc.
Can use "crazy letters" to make text mosaics
Allows you to even create bitmaps from your text, also known as ASCII Art
Your text mosaic can be output as a Bitmap, AVI, HTML, Text, etc.
Cons
Takes time to master this program and learn how each adjustment you make will affect your picture
Discussion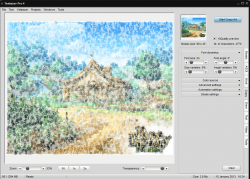 The thing that I love most about Textaizer Pro is the fact that it is free. Like I said above, I have always wanted an easy way to make text mosaics, but I have never wanted to spend any money on this venture. Now, Textaizer Pro gives me a free way to try my hand at it.
The program is simply to use. Once you have installed it, simply open a picture that you want to turn into a text mosaic. From there, you can choose what kind of text mosaic you want to make. Some of your choices include a standard text mosaic, ASCII or even crazy letters (which was a lot of fun). Once you have decided on the type of mosaic you want to make, simply hit generate, and the program does the rest.
Now usually the settings it automatically picks are good enough to get the job done. However, a little fine tuning never hurt anyone. In fact, the first time I went to make a picture it looked like…well…a bunch of jumbled words. After messing with the settings a bit, it came out looking more like what I expected. The problem here is that it took me some time to learn what each setting did. This is a program that will take a bit of trial and error before you make a perfect picture.
Last but not least, the program supports a lot of different output sources. For example, you can turn a picture into a text mosaic and actually have it put out as a text file. In short, you can turn a picture into text, which is kind of a cool concept. However, you can have the output file be a standard picture as well…but that is not as cool as saying you turned a picture into text. They also have a video feature that I did not get to try out. However, judging from some of the online forums I read, the feature works shockingly well. I will be interested to hear if any dotTech users have any luck with this feature.
CONCLUSION AND DOWNLOAD LINK
Overall, I feel that Textaizer Pro is worth a download, just to try it out at the very least. It does not take up a lot of space on your computer, and could be a fun way to kill a little extra time. Of course, do make sure that you have a little free time to kill with the program so you can test out all of the different features.
Price: Free
Version reviewed: 4.3.0.45
Supported OS: Windows XP / Vista / 7
Download size: 3.7MB
VirusTotal malware scan results: 0/46
Is it portable? No
Related Posts