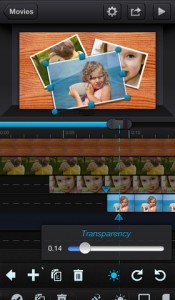 I think everyone goes through a phase where they want to grow up and become a director. Some people grow out of it, or get frustrated because of the cost of the tech it takes to shoot and edit a movie. And more often than not, editing is such a frustrating process that the project gets abandoned. But if you've ever toyed with the idea of making a home movie or short film with your iPhone, there's a handy app that makes video editing pretty darn painless. It's called Cute CUT, and it was developed by MobiVio Solutions.
What is it and what does it do
Main Functionality
Cute CUT is a free video editing app. In addition to editing tools, you can use this app to insert audio and other media into the video. Cute CUT also supports drawing right on the video itself, as well as creating video in HD (16:9) or SD (4:3) movie formats.
Pros
UI supports both portrait and landscape mode.
Drag and drop editing
30+ drawing tools to use on videos to add a personal touch
Create HD (16:9) and SD (4:3) movies, as well as movies in Portrait mode
Easy to share videos on Facebook or YouTube
20+ pre-loaded cinematic transitions
Cons
Free version has a watermark superimposed upon edited videos
Though robust, the app feel a little cramped at times
Some users have complained of stability issues: there's nothing more frustrating that having a buggy app
Discussion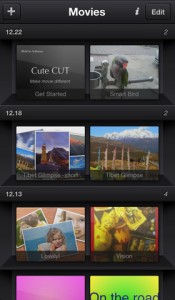 Creating a new movie is simple. From the home screen, you simply tap the "+" sign in the upper left, and enter the name of your project. Next, you pick your orientation and resolution (SD or HD.) From there, it's easy to add video, music, voice, text, or drawings.
The controls couldn't be simpler. Double tap on a segment to start editing, and then double tap again when the edits are complete. To move a segment, you hold one finger on a segment until a yellow line appears, and then slide to move it. The menus are simple to navigate, and I like the way that you can move the drawing tools menu around the screen.
Cute CUT is a free, universal app, but unless you make a $3.99 purchase, all the movies created using it will have a watermark overlaid in the bottom-right corner. That being said, everything else is fully functional in the free version. That means you can really get a good sense of how the app works before having to shell out your hard-earned cash for the full version.
I've seen user reviews carping about Cute CUT crashing frequently during use. I tested this app on an iPhone 4S, and I'm happy to say that I didn't have a single crash problem.
Conclusion and download link
Cute CUT is a solid app that really wins big points for how user-friendly it is. The drawing tool is cool, but don't expect to use this app to make terribly sophisticated animation. The drawing parts of the app are quite robust, but this app really is better suited to video. The videos you make are easy to share, and with so many great tools, they are bound to look great.
Price: Free ($3.99 to upgrade to watermark-free version)
Version reviewed: 1.2
Requires iPhone/iPad/iPod Touch, iOS version 4.3 or later
Download size: 26.5 MB
Related Posts