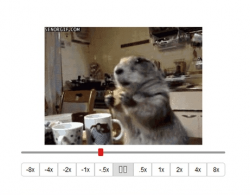 If you are like me, you like watching GIF animations on your computer. Maybe you have special sites you go to, or maybe you just stumble across them. Either way, GIFs are all over the internet. The only thing is, I wish I had more control over the GIFs. What if I want to play them slow, fast or even backwards? Well, now I can thanks to GIF Scrubber.
WHAT IS IT AND WHAT DOES IT DO
Main Functionality
GIF Scrubber is an extension for your Chrome Browser that gives you more control over the GIFs you watch. The extension gives you options for GIFs automatically, as soon as it has been installed into your browser. Of course the extension gives you more than just "play" controls. It gives you other options, like the ability to turn off auto looping, turning off auto start and much more.
Pros
Gain full control over the GIFs that play on your computer
GIF Scrubber allows you to play GIFs fast, slow or even in reverse
Most recent update gives the extension better controls, which allows for easier use
Program extracts frames directly from the GIF file. Thus you no longer have to wait for the animation to play, and you won't have to worry about missing frames
Options available to turn off auto start and auto looping
Choose to open Scrubber in a new window or a new tab
Can view the GIF frame by frame when you click the "Explode" button
Choose to save any frame as a single image
Cons
Only works with Google Chrome
Discussion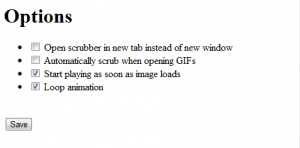 GIF Scrubber, although a simple program, is extremely effective and a lot of fun to use. The whole point of the GIF Scrubber extension is to give you more control over the GIFs you play in your browser. Although this program is extremely easy and fun to use, it does have one glaring drawback.
First, we are going to cover the features this program offers. Once you download this extension to Google Chrome, you have the ability to control the GIFs you watch. You can set Scrubber to open in a new tab or in a completely new window. You can even choose if you want the GIFs you are watching to auto loop or auto start. These are all nice features you typically don't have when watching these animations.
The extension also gives you the ability change how the GIF is being played. For example, you can speed up or slow down the playback of the GIF. You can even choose to play it in reverse, which is not really all that helpful, but still fun to do sometimes.
One of my favorite features is the "explode" option. By clicking this button when watching a GIF, the program will break it up into different frames. From here you can save any frame as an individual image. This is not a feature I will use a lot, but still one that I have found some use for.
The only problem I have is that this is an extension for Chrome. I tend to like using Firefox or Maxthon, which means this extension is useless to me. It is a shame too since I really enjoyed the extension, but probably not enough to get me to switch over to use Chrome.
CONCLUSION AND DOWNLOAD LINK
If you are already a Chrome user, there is no reason not to have GIF Scrubber installed. The program is easy to use, and gives you more control over GIFs, which we have all watched at some point in our lives. That being said, if you are not a Chrome fan, I don't think this one extension is worth enough to make you jump ship.
Price: Free
Version reviewed: 2.30
Supported OS: N/A — works with Chrome browser
Download size: N/A
VirusTotal malware scan results: N/A
Is it portable? N/A
Gif Scrubber on Chrome Web Store
Related Posts