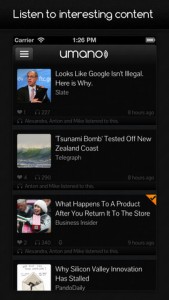 The new iOS app Umano bills itself as "interesting news read by real people ." If you're the type of person who really digs podcasts, NPR, and internet radio, Umano is a handy app that will let you consume your news aurally, rather than visually.
What is it and what does it do
Main Functionality
Umano plays audio recordings of news, articles, and interesting stories right from your iPhone. The stories are read by people with "amazing" voices.
Pros
Download articles to listen to offline
Get tips about what stories to listen to next from your friends
Depending on time of day, 4-6 new stories are uploaded each hour to the main "home" feed, with more stories in each of the other categories
 Make a playlist with articles that interest you
Browse by news source, or just check out the feed of incoming new stories
Cons
If you come across an article and decide you'd rather read the full text instead of listen to the article being read (or just want to see the photos associated with the article), clicking "View Full Story" doesn't always take you to the article. Umano sometimes directs you download the mobile app for the site where the story is housed, which is annoying.
Not all features are available (including "Liking") unless you log in to the app
Discussion
If you're at work, your boss is going to be mad if he sees you browsing different news sites and blogs all day. But if you are listening to these articles instead of reading them, you can consume a ton of media during your work day without your boss getting steamed. Slackers, rejoice!
The thing that will make or break an audio news app like Umano is the quality of the readers. Thankfully, every news story I listened to was read by someone with a mellifluous voice, and the audio was well engineered as well. No hisses, pops, squeaks, or issues with levels to be heard.
There is continuous playback, so you don't need to pick a new story to listen to every few minutes. You can turn this off if you want, though. I also think the UI deserves major accolades. The design is sleek, modern, and totally accessible.
The stories are pulled from all kinds of news sources and blogs. Some are well known, like CNN, the Atlantic Wire, Forbes, and Wired. Others are perhaps less well-known (like PandoDaily and Living Life Fully,) but the stories are good, so Umano is also a good way to find new sites to follow.
Conclusion and download link
If you're sick of podcasts and your standard radio options, definitely give Umano a spin. There's a huge array of content, and it is all well-read by professionals. I was really impressed with the variety of articles you can listen to, from hard news to top ten lists to tutorials. This new app is worth watching….er, listening to.
Price: Free
Version reviewed: 1.4.1
Requires iPhone/iPad/iPod Touch, iOS 5.1 or later
Download size: 4.9 MB
Related Posts