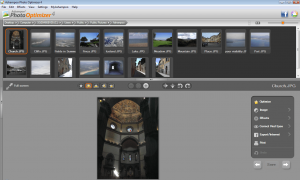 There are literally thousands of photo editors that you can download for your computer. Some of them are free, and others you have to pay for. In my experience, usually the paid ones are better, but there are a number of great free ones out there. Ashampoo Photo Optimizer is one of the paid ones. So is it worth your money? Find out below!
WHAT IS IT AND WHAT DOES IT DO
Main Functionality
Ashampoo Photo Optimizer is a photo editor that claims to combine state-of-the-art photo editing abilities with an easy to understand interface. The program gives you access to all of your basic features, such as the ability to control hue, contrast, brightness, etc., but it also gives you access to more advanced features like the ability to invert all of your colors, remove red-eye, or even at watermarks.
Think of Ashampoo Photo Optimizer more as a 'photo modifier' than a Photoshop-like photo editor. With Ashampoo Photo Optimizer you won't be editing out parts of images or combining images together. Rather, you will be doing things like optimizing images and changing their properties. So it is a photo editor, yes, but not in the traditional sense.
Pros
Clean and easy-to-use interface
Offers one click optimization for all of your pictures
Can remove red-eye
Convert your pictures to a format that you desire (supports most popular image formats)
Can batch optimize pictures
Provide a before and after preview
Special effects can be added to the pictures, like making the pictures look like they have been aging
Upload the pictures you edit to places like Picasa and Facebook
Allows you to send your pictures by e-mail right from the program
Offers full touchscreen support for monitors that support it
Low price tag
Cons
Comes bundled with crapware, like a toolbar. Be sure to choose custom installation during installation and deselect all the added crapware, to avoid this.
Discussion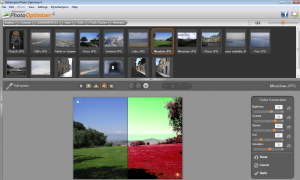 Actually, there is a lot that comes in the Ashampoo Photo Optimizer package. For only $10, you get access to some pretty advanced photo editing features. Although it is not the best photo editor I have ever used, it definitely provides me with enough stuff that I felt it was worth the money.
There are a few things that I congratulate the program on. First and foremost is its forward thinking. Although touchscreen monitors for home computers are not the "norm", they are definitely growing in popularity. A lot of people are moving away from big towers to big monitors that have everything built right into them. Since this program offers touchscreen support, it is already preparing for the future.
Next, I love any program that integrates other services. In this case, it works in Facebook and Picasa. You can upload your picture right to your favorite social media networking site right away. Sure you can do this without the program, but it does help to streamline the whole experience.
Like a lot of other photo editors, it does offer one-click optimization. However, what is cool is the fact that you can actually auto correct batches of pictures with just a click. This is a neat feature that I have not noticed in a lot of other photo editors.
CONCLUSION AND DOWNLOAD LINK
Trustfully, there is nothing really wrong with Ashampoo Photo Optimizer. It did not blow me away, but I do feel that it is worth the modest price tag of $9.99. I am sure there are better photo editing programs out there, but Ashampoo Photo Optimizer is a great choice for people who are looking for an easy-to-use photo editor that doesn't cost too much.
Price: $9.99
Version reviewed: 4.0.3
Supported OS: Windows XP / Vista / 7 / 8
Download size: 32.18MB
VirusTotal malware scan results: File too large to scan
Is it portable? No
Ashampoo Photo Optimizer homepage
Related Posts