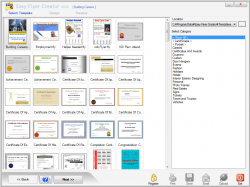 If you run your own business or like making your own leaflets, certificates, etc., you know how important a good desktop publishing software application is. You want one that is easy to use, but still keeps your brochures and flyers looking professional. Well, that is just what Easy Flyer Creator claims to be.
WHAT IS IT AND WHAT DOES IT DO
Main Functionality
Easy Flyer Creator is a desktop publishing program that helps you create and design flyers, brochures, leaflets, certificates, and much more. The design and interface is user-friendly, and it comes pre-installed with tons of different designs that you can choose from. Finding the right design for you is just a matter of looking for it.
Pros
Helps you easily create brochures, leaflets, flyers, certificates and much more
Comes with over 100 templates for you to use, and the templates are fully customizable
Allows you to save your creations as PNG, TIFF, JPG, PDF, and other image formats
Can share creations via email or upload to an FTP server
Import all of your contacts and there data from programs like Microsoft Access, Microsoft Excel and from other databases that use XML and CSV files
Offers free updates and add-ons from time to time
Comes with a built in barcode and QR code generator. This means that you can add smart phone readable tags to all of your documents.
Allows you to add Google Maps right to your documents
Cons
Large download size. If you have a slow internet connection, it could take forever to download this 90MB+ download.
The output quality is going to be affected by how good your printer is (if you are printing)
Requires .NET Framework 4.0
Templates are of OK quality — not bad but not "wow" either
Can be a bit laggy
No undo/redo capability
Discussion
The truth of the matter is that Easy Flyer Creator is a very simple program. However, this actually works in the program's favor. It lets you easily create brochures, leaflets, flyers, certificates and more that look professionally done.
I really don't have much I don't like about this program so we are going to start there first. The program is pretty large so if you have a slow internet connection, this is going to take a long time to download since it is about 98MB big. Also, the program creates great looking documents; however, it is important to keep in mind that the quality of your output is going to be limited to that of your printer. Just because the program creates a great looking flyer, does not mean it will come out looking that way if you don't have a good printer.
That being said, the program has a lot to offer you. Creating these kinds of documents has never been easier. They have so many pre-installed designs to choose from, you are bound to find one that fits your needs. They are great for people who are looking to make business cards or people making flyers for a fundraiser. No matter what you need these documents for, you can count on Easy Flyer Creator to have the perfect setup for you.
Another cool feature is the fact that it lets you easily important your contact information right from other programs like Microsoft Outlook. That means you don't have to waste your time filling out information you probably already have saved on your computer.
Now it is time for my favorite feature, and that is the ability to include QR codes right on your brochure. If you are into marketing, you already know what a big deal this is. QR codes are a great way to advertise to people, because it is "interactive" and most people already have a smartphone to read them. Not only that, but you can use these QR codes to take people to your website, which allows you to advertise even more to them than what you did with your flyer, business card or whatever.
CONCLUSION AND DOWNLOAD LINK
Easy Flyer Creator is a lot of fun to use, and, best of all, it is easy to use. If you don't mind spending the $40, I recommend getting it if you need or want it. In and of itself $40 is not a small sum; however, if you consider how much rival programs cost that have similar functionality, $40 isn't that bad at all. Plus this program does do a great job, and they offer a free trial for you to try before you buy.
Anyone looking for a free solution to creating brochures and the like can give Serif PagePlus Starter Edition a try.
Price: $39.99
Version reviewed: 3.0
Supported OS: Windows XP / Vista / 7
Download size: 98MB
VirusTotal malware scan results: File too large to scan
Is it portable? No
Related Posts