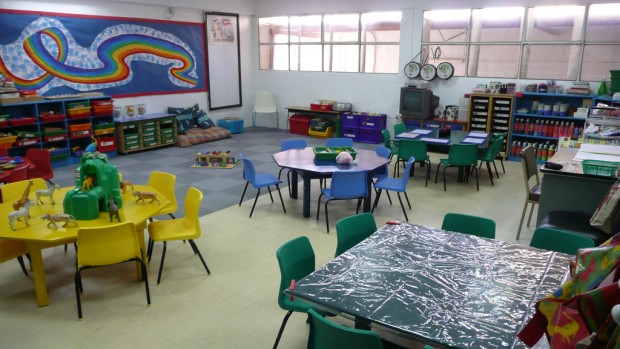 The usual things people pirate are movies, music, games and sometimes even books. But let's not forget the dark side of the internet, and that amongst all the media that I just mentioned, there is of course, pirated porn for download. Perhaps more importantly, let's also not forget that sometimes these porn videos aren't labelled properly!
A kindergarten teacher in France, who apparently has limited knowledge in terms of file-sharing techniques, decided that she would turn to the internet to download a cartoon movie for her class to watch. After downloading the file, she started it up for the children and immediately left the room to answer a phone call. When she came back, the innocent little kids that were left in her care were watching a full-on porn movie in class.
An "extremely regrettable accident" is how a spokesperson for the school describes it. Unsurprisingly, parents are claiming that their children were shocked by what they saw.
Now, is it the teacher's fault? Sure it is, but it appears that this mistake can be an easy one to make — if you're not using BitTorrent.
You see BitTorrent relies on indexed sites such as The Pirate Bay. The advantage of having sites like The Pirate Bay is content like porn can be completely sectioned off in its own part of the site. Comments and flags can also help you spot files that were maliciously named to trick people. So accidentally downloading a porn movie via BitTorrent is almost inexcusable.
But maybe the kindergarten teacher was using BitTorrent and she just didn't read any of the descriptions or comments? Either way, how long does it really take to just check on what you're about to show kids — a room full of kids for that matter? Not very long. A few seconds of scrubbing through the video beforehand and this teacher could have avoided the entire fiasco.
Remember people, make sure you know what you're showing your kids. Could be porn.
I'm just glad Mr. Giles' kid wasn't in this class.
[via TorrentFreak, image via Steve & Jemma Copley] 
Related Posts