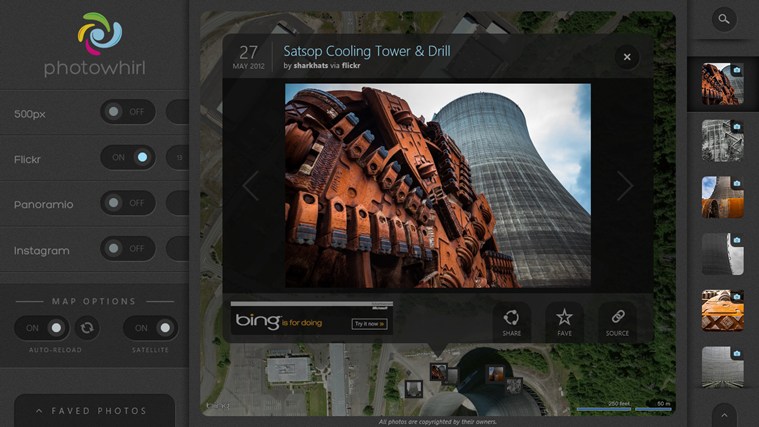 PhotoWhirl allows you to explore the world around you with the help of geotagged photos. This app pulls photos from online services such as Flickr, Instagram, Panoramio, and 500px. This app is really great for people who have just shifted to new places. Or even for photographers looking for inspiration or adventures and travelers looking for hidden gems.
What is it and what does it do
Main Functionality
This app pulls geotagged photos for your location or a custom location using services like Flickr, Instagram, Panoramio and 500px. This means you can view photos from around the world using this app.
Pros
Beautiful interface
Share your photos using connected accounts on your Windows 8 machine
Locate geotagged photos from Flickr, Instagram, Panoramio ,and 500px!
Automatically sync your favorite finds across all of your Windows 8 devices!
Photographer location scouting
Editor's choice shows you the best photos from around the world
Cons
More online services and better organization
Better integration with services provided
Add extra features like reviews of places
Discussion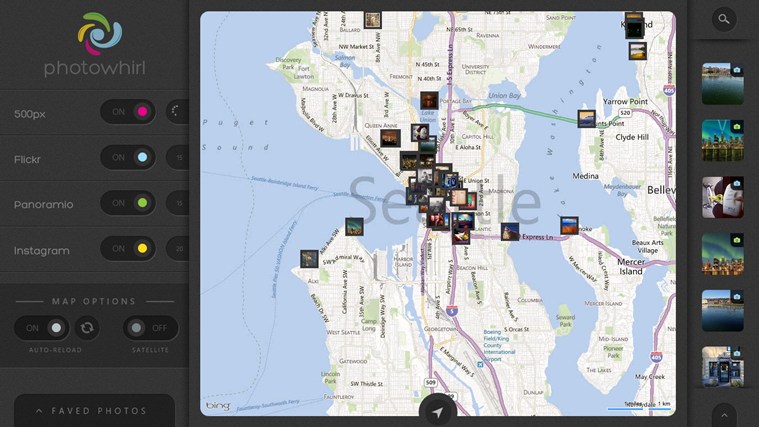 PhotoWhirl is a boon for all photographers and adventure junkies. It gives an alternative to explore the world around you. Through other people's lens you discover places not only around you but any other place on earth. It has a pretty interface and has decent integration with Windows 8 supporting Charms bar, etc.
You can share photos using connected accounts on your Windows 8 machine. But back to the main feature you can locate geotagged photos. It uses the location services and pulls up the photos clicked around you. And I was surprised by the number of photos the service actually pulled up. Also you can automatically sync your favorite photos across all your Windows 8 devices.
On top of this you also have photographer location scouting. You can search and explore through charms bar search and pretty much travel around the world and get a new perspective and ideas to click photographs. Also there is an option to see the best images selected by the app's editors.
Coming to cons, there is a need for more online services. And the app developer's better think of better organization as there are many geotagged photos of very famous places. Also if they can think of adding extra features like reviews and info about places and the photographer it would be helpful.
Conclusion and download link
PhotoWhirl is a pretty useful and nifty app. It provides what it promises. And if you are a photographer like I said before this is one app that you must try out. And it is quite interesting to the world in a new light. It has pretty decent support for the networks I have mentioned, but I guess it isn't enough for us ordinary folk. This is one app which we all don't require, but if you do require it, then don't miss this one. Give it a try definitely.
Price: Free
Supported OS: Windows 8, Windows RT
Supported architectures: x86, x64, ARM
Related Posts