Did you watch "Rocko's Modern Life" growing up? It was totally my favorite Nicktoon, especially the episode where Rocko and the gang took over Bighead Studios and started making their own cartoon. I couldn't help but think about that painful, old school animation process as I experimented with Animation Desk, a Mac App developed by KDan Mobile Software. This solid app is way simpler to use than the old method of animating.
What is it and what does it do
Main Functionality
The next logical extension of KDan's Animation Desk apps for iPad and iPhone, Animation Desk for Mac lets users create simple cartoons. Animation files can be shared across all iOS devices, making it easy to work on a project while away from your home computer. Users can the upload animations to YouTube, or share their creations on Animation Desk's "Anizone" community.
Pros
Drawing field has been designed to look like an old school animation desk
Share your creations on Animation Desk's "Anizone" community and network with other creatives
Draw with mouse, trackpad, or Wacom tablet
Plenty of pre-loadable backgrounds, or add a picture as your custom background
Tons of colors, brushes, and tools to choose from
Cons
Would be nice if other drawing tablets besides Wacom were supported
Can be a bit sluggish on older Macs, even if they meet the minimum system requirements
Some users have complained of lost work or jumbled frames
Costs $9.99, though it's a pretty decent value for what you're paying
Discussion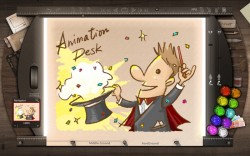 Like most other KDan offerings, Animation Desk distinguishes itself by having a great navigation system. Despite a truly massive array of tools and utilities, the menus are really simple to navigate, and never overwhelming. There are some great keyboard shortcuts you can make use of as well.  Brush size adjustment is done with the command key + mouse, while the adjustment for brush opacity adjustment is a simple alt key + mouse.
It's great that you can share animation projects between devices (though of course, you do need to cough up a bit of extra dough for the Animation Desk apps for other iOS devices.)
One thing that is really cool is Animation Desk's Anizone community. It's a cool place to get inspiration, share your projects-in-progress, or just waste a little time. It's a nice function that makes the whole Mac App experience fell a bit more well-rounded.
Some users have complained of frames being lost during the saving process, or jumbled frames when scrolling. I personally haven't encountered any of these issues, but it's still worth reporting them.
Conclusion and download link
If you have ever wanted to experiment with making your own little cartoons, this is a great Mac App to play around with. It's user-friendly enough to not intimidate beginners, but robust enough to intrigue more experienced visual artists as well. If you've got $10 and a passion for drawing, this is well worth investing in.
Price: $9.99
Version reviewed: 1.2
Requires: OS X 10.6 or later, 64-bit processor
Download size: 40.3 MB
Animation Desk on Mac App Store
Related Posts