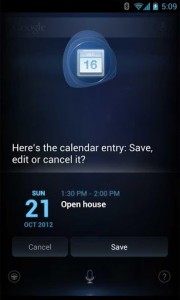 Dragon is a voice assistant that aims to make your life easy by recognizing natural voice commands to trigger specific actions. This app is great for those who don't like the offerings currently offered by Google's similar service, Google Now. It is also good for those who are looking to get Siri-like functionality on Android with a similarly-looking interface. In the world of voice-assistant apps, it can be incredibly difficult to find a polished app that recognizes the way you naturally talk.
What is it and what does it do
Main Functionality
This app is simply designed to trigger certain actions on your phone by recognizing your voice. It is supposed to behave like a real personal assistant who performs whichever simple task you ask it to without hesitation. It does so by carrying out the tasks in an elegant and beautiful interface, making the entire experience quite enjoyable.
Pros
Wake app with voice
Cary out traditional phone actions with voice
Have new messages read aloud
Recognizes natural voice
Cons
Difficulty recognizing contacts
Cannot choose source of information
Cannot respond verbally with information
Discussion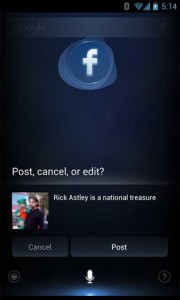 Voice assistants have been gaining in popularity ever since Apple's implementation of Siri in iOS. It wasn't really until that point where people began realizing that it is easier to just talk to your phone, rather than manually performing actions. Since then, the most legitimate competitor was Google Now, excluding some some-what decent 3rd party apps. However, Google Now really lacks the ability to recognize natural voice commands on a casual level. Over the course of Google Now's life, most of the personal assistant apps have really leveled off in features. You are essentially have a choice between a plethora of apps that all have essentially the same features. As a result, users of this app are really going to make their decision based on personal taste, rather than feature count.
When you want to begin using Dragon, all you have to do to wake the app is say "Hi Dragon" if the app is currently running. The app will then launch the interface, allowing you to go about your business as you see fit. While in the app, you can use your voice to trigger a variety of different actions. You can have your assistant make a call or send a text message to any contact you want. You can also create calendar events and update to Facebook and Twitter. Additionally, you can get location-based data like directions and nearby restaurants. You can also get accurate weather data as well as the ability to launch any app you currently have installed. You will also have control over sound-based options such as your music and alarms. Dragon performs all of these actions all at the whim of your natural speaking voice, making it easy to communicate with.
When the app is running in the background, you will be able to interact with the app without even picking up your phone. In addition to being able to wake it up by voice, you can also have the app read your messages aloud as you get them. This is a great feature because there could be times throughout the day where you are working with your hands, making it difficult to stop and handle your phone. It will be especially useful if the messages are particularly important and you need to hear them without interrupting what you are doing.
While the app is incredibly polished, there are couple unfortunate aspects that keep it from being your ultimate companion. For starters, The app has difficulty recognizing some contacts. This happens if the contacts are in another language or if the name is not pronounced as it's spelled. Additionally, you cannot choose where you get your information from. For example, if you ask the assistant about a movie, it will give you information from Fandango, which may not be the first choice for some users. The same aspect applies to weather information, as some sources are more accurate for specific locations than others. Also, if you ask a specific question, the app can display the data, but cannot read it out loud, a feature that could be very easily implemented.
Conclusion and download link
Dragon is without a doubt the most polished virtual assistant in the Google Play Store. It sports all of the basic actions that you would expect, giving you access to all of your most-used functions. However, with the strong development that has been taking place with Google Now, there isn't anything significant to make people really want to leave a service that is embedded into the operating system. Nevertheless, this app is entirely functional and can serve as a great alternative.
Price: Free
Version reviewed: 2.0.0
Requires: Android 2.3.3 and up

Download size: 45mb
Related Posts