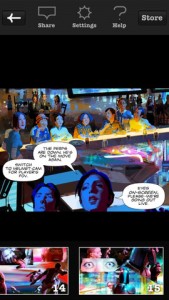 Digital comics have come a long way in the past five years. What started off a basically a way to pirate back issues has evolved into a unique art form. Gone are the days when comics fans could be satisfied with just a .pdf scan of an old issue of "Invincible." Today's comics readers want new content that they can't get anywhere else. And if it has ambiance-building elements like music or animation, so much the better. A while back, Wired called Madefire "the next big thing in comics." And they may just be proven right.
What is it and what does it do
Main Functionality
Madefire is an iPhone app that provides readers with exclusive, original comics. Each comic is augmented with ambient sounds, noise effects, and motion. The content is provided by big names in the comics industry, and the stories are not available anywhere else.
Pros
Includes comics by big industry names like Dave Gibbons ("Watchmen"), Ben Templesmith (of "Fell" and "30 Days of Night" fame), and Bill Sienkiewicz (Eisner-award winning mind behind titles like "The New Mutants" and "Elektra: Assassin")
Diverse content, delivered weekly as new episodes
360° panoramic views, music, sound effects and motion transport you deep into story world: this is more than just a comic book made digital.
Users control the pace at which the story unfolds
Free to download
Cons
Episodes are short: it takes just 10-15 minutes to "read" an issue.
Somewhat small library: as of right now, there are just 9 series (though most have multiple issues)
Each story has to be downloaded: it's hard to just pick up the app and start reading
Some users will find the iPhone too small to properly render each page
Transition music between scenes could be improved: some transitions are quite jarring
Discussion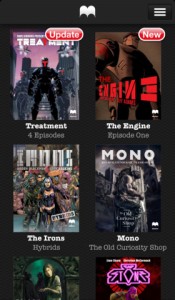 While the amount of titles currently available on Madefire is kind of on the small side, the quality of each title is very high. There's also a great variety of stories, despite the somewhat small number of titles available. There's the spooky, Lovecraftian "Metawhal Alpha," which concerns a mysterious corpse. Then there's "Treatment," Dave Gibbon's exploration of crime and the seedy underbelly of a futuristic array of cityscapes. I also liked "Mono," a series of stories about an ape-human hybrid who works as an assassin for royalty.
Some users will find the iPhone too small to properly render each page, but I have to disagree. Tilt the phone into landscape position, and each panel takes up the entire screen. Seeing as Madefire is more of a motion comic style of presentation, it really works, even on a cramped iPhone screen. Madefire comics don't feel constrained on iPhones, but of course they will be more glorious on an iPad, as most highly visual apps are.
That being said, I feel like the sound design could use a little word. In a couple of cases, when the background soundtrack switches due to a scene change, the effect is really jarring, and pulls you out of the world of the story. A little work could be done cleaning up these transitions and making them more seamless.
Conclusion and download link
If you're a comics fan who loves guys like Gibbons or Templesmith, you should check out Madefire. You can't get these stories anywhere else, and that kind of exclusivity is pretty darn cool. The interface is simple to navigate, and the quality of the storytelling is very high.
Price: Free
Version reviewed: 1.4.2
Requires iPhone/iPad/iPod Touch, iOS 5.0 or later.
Download size: 7.3 MB
Related Posts