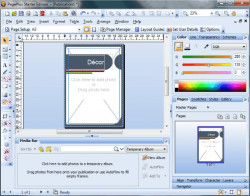 Printing a document is easy. However, printing one in a style that you like can sometimes prove to be difficult. Well that no longer has to be a problem with PagePlus Starter Edition. This is a program that is designed to help you create documents quickly in a printer friendly arrangement.
WHAT IS IT AND WHAT DOES IT DO
Main Functionality
PagePlus Starter Edition is a free program that is designed to help you create documents quickly. Creating newsletters, business cards and other advertisements have never been easier. It features a drag-and-drop interface, which allows you to design a page just the way you want with little to no experience.
Pros
Create documents quickly and easily in a printer friendly style
Allows you to create documents, business cards, labels and more in a drag-and-drop interface
Gives you total control over the layout of your document
Comes with a guide to help you align objects exactly
Supports both PNG and JPG pictures
Provides you with color schemes
Cons
The starter version only lets you create documents that are no longer than five pages
Starter version also does not let you import, edit or export PDF documents
The free version also limits you from having access to the program's color management studio and deprives you of some of the more advanced text handling tools
You are forced to create an account to download the free version
Discussion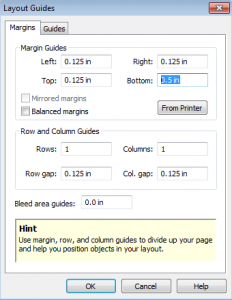 When I first started using PagePlus Starter Edition I was fairly impressed with it. The program seemed to work great, and it made designing a perfect layout for my documents quick and easy. However, the more time I spent with it, the more I realized just how much this program was limiting what I could do. The only way to lift these limits is, of course, to download the "paid" version.
Let's start off with the good. The whole point of this program is to quickly design documents that you can print. The program offers a drag-and-drop interface, which means you can place things exactly where you want them. No longer do you have to fight with formatting to get things to work right. Also, with alignment guides, you can rest assured that your document is going to print perfectly.
The program does support popular image files like PNG and JPG. On top of that, it also gives you access to preset color schemes. This means, if you don't have a creative bone in your body, you can still come up with a great color scheme for your business cards that won't hurt other people's eyes.
If you get this far with the program, you are bound to start noticing some restrictions. First, you cannot print or make documents longer than 5 pages in the free version. If you want to do that, you need to buy the paid version. Want to work with PDF files? Well, you can't do that either in the free version. What about picture editing and advanced text handling options? Also not present in the free version.
CONCLUSION AND DOWNLOAD LINK
If you just want to easily design a page or two without having to fight with formatting, this program is for you. However, if you are expecting to do large projects or have access to advanced tools, you are going to have to look elsewhere to shell out money to upgrade to PagePlus Pro. As a free program, PagePlus Starter Edition works well enough, but I don't know if it is worth to upgrade to Pro. So if you can live with the restrictions, give Starter Edition a try.
Price: Free
Version reviewed: 2.02
Supported OS: Windows XP / Vista / 7
Download size: 89MB
VirusTotal malware scan results: File too large to scan
Is it portable? No
PagePlus Starter Edition homepage
Related Posts