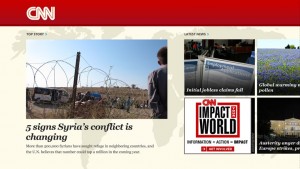 World is changing every moment and keeping track of the world is getting more and more difficult. CNN plans to make this easy and it does a do a good job. CNN helps you stay informed with the latest headlines and original stories from around the globe. And you can lead the conversation by sharing today's news and dig deeper into the stories that matter most to you. All that we expect from a news app it delivers news on time and it is one of the smoothest apps I have seen on Windows 8 with pretty decent integration with the OS
What is it and what does it do
Main Functionality                                                                 
CNN is the official news Windows 8 app from the CNN network.
Pros
Smooth interface
Get breaking news and follow stories as they develop
Contribute your story or opinion to CNN iReport by uploading photos and videos
Read the top headlines on the go with the CNN Live Tile
Option to check history and favorite articles
Cons
Interface need more new features
Need more features in live tiles
Snapped mode is buggy
Discussion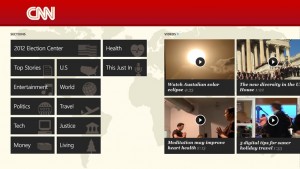 CNN app is great, it is fast and pretty smooth. And it is smoother and faster than the default news app on Windows 8. The interface is snappy and pictures and articles load pretty fast. And the interface is fluid to say the least. And CNN is known for its great journalism. You can easily stay updated with CNN's journalism and follow and react to stories as they develop.
CNN also has added an option called iReport, where you can contribute the story or opinion, probably taking cue from the Arab Spring events. You not only can contribute by uploading photos and video from the app directly, you also can follow your favorite iReporter and see the stories from their view point. There are the usual options of live tile and sharing the news to your social networks. But one nifty feature I saw in this app was saving articles as favorite and seeing the history of articles you have read so that you can come back to it to quote in the future.
But the app definitely has its share of cons. To begin with, the interface needs a change of font. The font they are using right now doesn't give it a professional news app look. And they should also make the app more intuitive by adding options like to go to next news item after reading the current news item. Also enabling backspace to go back should be put in the app.
And the live tile needs a lot of work to be done. To begin with it only shows one news headline and that is currently set to the default US headline. The live tile should be flipping different headlines and there should also be options for multiple tiles showing headlines from different sections of the news app. Even the snapped mode has a few bugs, like it doesn't show all the options and there is no option to play videos in the snapped mode. Iron these bugs and this will be the best news app in the market.
Conclusion and download link
CNN is in the news business for ages. And they are professionals in this. Windows 8 is a new market and it will help its customers and fans to follow its style of journalism. And this app definitely helps them in that aspect. But if they need new users to join the CNN bandwagon, they should improve the app. This app is good and shows a lot of potential and let's hope that the programmers read this review, and fix these cons. Like I said before, then this app would be the best news app in the app store. And as of now, this app can be given a ride. It is a small download and you can give it a try at least to see if you like it or not.
Price: Free
Supported OS: Windows 8, Windows RT
Supported architectures: x86, x64, ARM
Related Posts