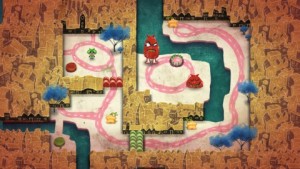 Games come and go from the App Store all the time, often with no warning. Sometimes, you want to check out a game people have been buzzing about, only to find that the title has been pulled. If you missed Gesundheit! the first time it was available, good news! This award-winning puzzler is back on the App Store and free for a limited time only.
What is it and what does it do
Main Functionality
Gesundheit! is an iPhone game that features dark and gross humor, paired with addictive gameplay and unique art. You play as a cute little green piggie. Your goal is to navigate various levels, collecting starfruit and trapping monsters along the way. To trap a monster, you throw your "sneeze" towards a trap, and the sneeze goo acts as irresistible bait for the monster.
Pros
Tons of accolades, including GOTY Nominee & Winner Best Mobile Puzzle Game of the Year by IGN and Runner-Up iPad Game of The Year – Apple Europe Best of 2011
Feature intuitive touch screen controls: say goodbye to on-screen buttons and virtual D-Pads
Awesome, earwormy soundtrack music and end-of-level melodies
Creative level designs
Cons
Some players say that the iPad experience blows the iPhone version out of the water
Game is not universal
Game app is a pretty hefty download
You have to "Like" the game on Facebook to unlock the six free bonus levels. Don't wanna do that? Then you're out of luck.
Game sometimes freezes when you close of out the game to take a phone call, and must be restarted into to resume at the last level you completed
Discussion
A bit of backstory: this isn't the first time that Gesundheit! has been available on the App Store. The game was originally launched under the Konami flag in the summer of 2011. Eventually, it was pulled (no one seems clear on why, exactly.)
Then, this year, the game was back in the App Store, thanks to the backing of Revolutionary Concepts. The game is currently free for a limited time, as a goodwill gesture to former fans of the game, who can download the game during the free period in order to avoid being double-charged. New to the game? It's free for you as well!
With fantastic, hand-drawn art from artist Matt Hammill, Gesundheit! has a really unique look from the get-go. It's really charming; no mean feat for a game about hurling boogers at unsuspecting monsters. The controls are very simple: just tap where you want to go, and drag over your piggie to shoot a snot ball.
The puzzles are really challenging, and I found myself getting more drawn in than I expected. The charming visuals and music combine to make a gameplay addictive that is more engrossing than Angry Birds.
Conclusion and download link
The file for Gesundheit! is pretty massive, but it's well worth cleaning out some space on your iPhone to make room for this addictive, whimsical puzzler. After a long absence, it's great that this game is back on sale in the App Store to captivate a whole new legion of fans.
Price: Regular price unknown but is free for a limited time only
Version reviewed: 1.0
Requires iPhone/iPod touch/iPad, iOS 5.0 or later. 
Download size: 377 MB
Gesundheit! on Apple App Store
Related Posts