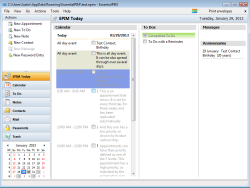 I love keeping my information and tasks organized, but that does not mean that I want to spend an arm and a leg trying to organize my personal and business information. So let's see if EssentialPIM is worth the download.
WHAT IS IT AND WHAT DOES IT DO
Main Functionality
EssentialPIM is a personal and business information manager. It is completely portable as it can be downloaded to a USB flash drive. It can work as your calendar, note taker, contract manager, password manager, task reminder, and much more.
Take note EssentialPIM comes in Free and Pro versions. This review is specifically on EssentialPIM Free but we will discuss the differences between Free and Pro.
Pros
Mange your passwords, email, contacts, and notes from one place
Use the calendar and reminder feature to be reminded of upcoming tasks and appointments
Has free iPhone/Android apps that you can sync data with
Offers multiple languages
Interface is clean and easy to understand
Offers a free version for those that don't want to commit to the paid Pro version
Portable
Cons
I would have liked to see some of the Pro features included in the free version of the program
Discussion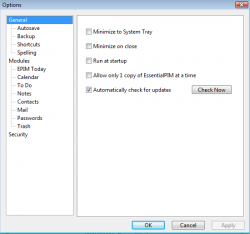 EssentialPIM Free is a personal information organizer that has apparently won a few online awards. The fact that it is supported by a pretty big online community is further proof that people love this program. However, I don't like going by what others say, let's check it out for ourselves.
Now, EssentialPIM actually comes into two different versions. There is the free version and the Pro version. As you can guess, the Pro version offers more features (we will get to those in a second). For now, let's cover what you get when you download the free version of this program.
EssentialPIM Free has a lot to offer despite the fact that it is completely free. It can be used to manage your mail, contacts, notes, passwords and tasks. On top of that, you can also use it as your daily calendar and planner. Of course, my favorite thing about the program is the fact that it can be synced with your iPhone or Android. This means that this program is truly portable as it can remind you of tasks you need to complete, even when you are away from your computer.
Now, if you really like the free version and you want more, they do offer a Pro version. This offers a lot more features. This does include synchronization with Google, Outlook, iCloud, etc., multiuser access to a single database, global cross-linking, advanced backup of all of your personal data, advanced encryption, posting notes right to your desktop and the ability to send any item you want to your email. Heck, the Pro version can even help you design and print labels.
The following chart explicitly lists out the differences between Free and Pro (click on chart to enlarge):

Really, I have no problem with this program. It is pretty easy to use and does not take long to learn your way around. That being said, I would have really liked to see some of the Pro features included in the free program. For example, the ability to post notes to your desktop does not feel like a feature I should have to pay for. Not only that, but I don't think that the Pro version is worth $40. So, this means that I am stuck with the free version, which is lacking some features I would have really liked to use. However, that does not take away from the free version in the least — it is still great.
CONCLUSION AND DOWNLOAD LINK
Despite the fact that it is lacking a few features I would have liked to use, the free version of EssentialPIM is perfect for most people. It will help keep you better organized, and that is the whole point of this program. The fact that you can easily sync your data between your Android/iPhone devices with the information on your computer is extremely helpful as well. If you are looking for a good personal data management system, you may want to give EssentialPIM a try. I don't think the Pro version is worth the price tag but if you do, you are always welcome to upgrade to it.
Price: Free or Pro version for $39.95
Version reviewed: 5.3
Supported OS: Windows XP / Vista / 7
Download size: 4.6MB
VirusTotal malware scan results: 0/46
Is it portable? Yes
EssentialPIM homepage [grab portable version from here]
Related Posts