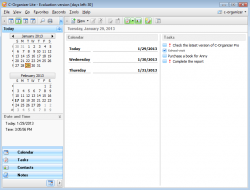 If you are anything like me, staying organized is very important. Call me OCD, but I like to have my "ducks in a row". This goes both for my personal and business life. That is why I am always on the lookout for the next best daily organizer. Today, we are going to be looking at C-Organizer and see what it has to offer.
WHAT IS IT AND WHAT DOES IT DO
Main Functionality
Whether you are just trying to keep daily tasks organized or you need something that can manage contacts, appointments, notes, and more, C-Organizer has you covered.
Take note C-Organizer is a personal information manager that comes in two flavors: Lite and Pro. Both of these versions are paid, but they do offer very different features (with Pro offering the most). This review is specifically on C-Organizer Lite but we will mention the differences between both versions.
Pros
Has all the expected task management features plus ability to manage contacts, a notebook, and more
Can password protect/encrypt data
Supports rich text entry (i.e. formatted text, tables, and pictures)
Easy to understand user interface
Allows you to import or export to/from other organizers that support csv, txt, xml, cdb, and html formats
Fully customizable view
Easy-to-read tree-like database structure
Can post sticky notes right to your desktop
The program is fully portable. Can be installed to a removable device.
Supports multiple languages
Cons
The Pro version has many features not found in Lite. Most notably, Lite is missing out on a 'Calendar of Events' (Lite has a 'Calendar of Appointments' but not 'Calendar of Events'). Lite also doesn't support categories, cannot sync with Google Calendar, does not have yearly calendar view, and cannot attach files. Pro has all these features and more.
No native sync with, or support for, the two most popular mobile platform, Android and iOS (nor does it support Windows Phone or BlackBerry). If you have Pro, you can sync through Google Calendar.
Free alternatives offer pretty much all of the features in Lite/Pro, plus more in some cases
Discussion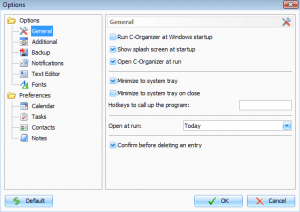 As I talked a little about above, there are two versions of this program: a lite and pro version. Before we get into the features found in both versions, let's cover the features that are only found in the Pro version. When you purchase the Pro version, you will have access to the following features: synchronization with your Pocket PC or Pam Device, synchronization with Google Calendar, password generator, supports categories, password manager, share information with others over a network, send emails to all contacts in a group, attach files to your emails, see a year calendar view, and more. Since you get all of these extra features for only $10 more, it does seem like the Pro version is a better buy.
The following chart explicitly lists out the differences between Pro and Lite (click on the chart to enlarge):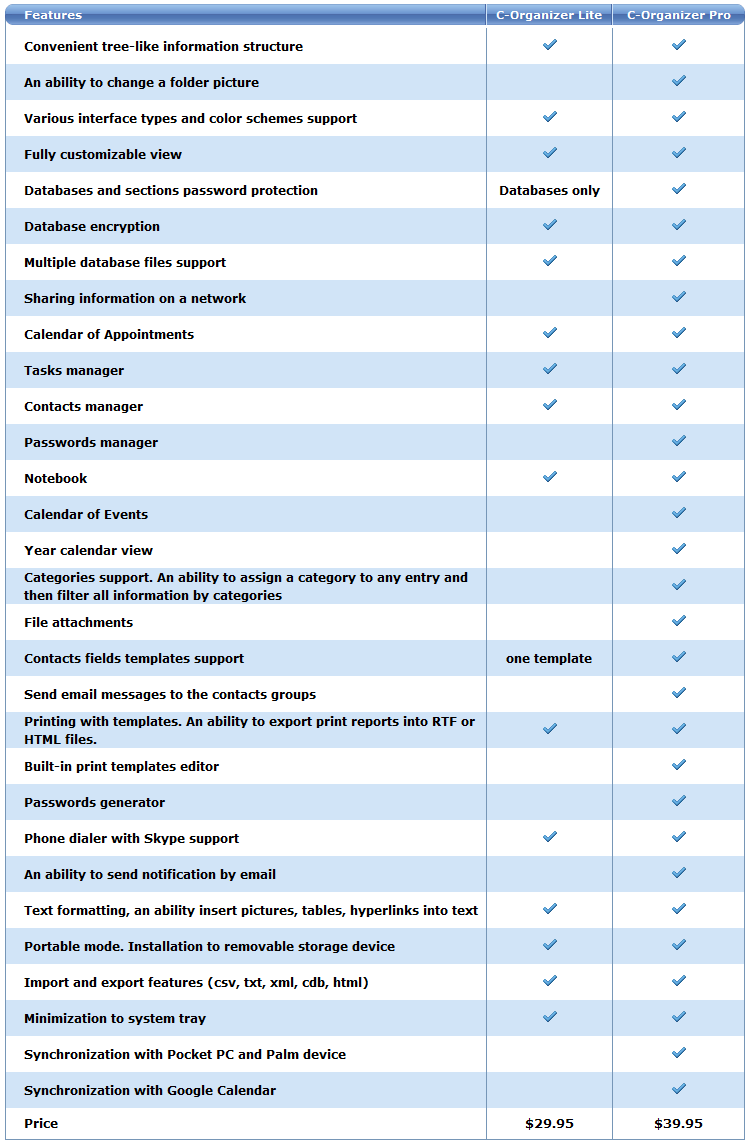 Now, let's cover features that are found in both the Pro and Lite versions. This includes features such as: Database encryption, fully customizable views, fully portable, multilingual support, offers a tree-like database structure, sync with your smart phone, the ability to import or export features, advanced diary support, show sticky notes on your desktop and more.
The program is easy to use and can be customized any way you want. Due to all of the options, the program can take a bit of time to figure out, but once you do, working with it will become second nature. The fact that you can export information from other organizers that you may already be using is extremely helpful as well.
The biggest problem I have with this program is a) Lite version is missing too many features to be a viable option and b) Pro is overpriced. For $40, C-Organizer Pro offers you nothing that cannot be found in other free programs. In fact, with the lack of direct support for iOS or Android or Windows Phone or BlackBerry, C-Organizer is behind the times.
CONCLUSION AND DOWNLOAD LINK
Meh. That is how this program makes me feel. As far as function goes, the program works just fine except for the lack of modern mobile device support. However, I cannot sit here and tell you to spend $30 on the Lite version because it is missing too many features; the Pro version is obviously the best value. However, $40 for Pro is too much when so many freeware programs out there that offer many (if not all) of the same features plus more. I recommend passing on this program. If you still want to try it, however, they do offer a 30 free trial.
As far as freeware software go, Rainlendar and EssentialPIM are both excellent task/information management programs. Rainlendar is more focused on task and events management and takes an excellent minimalistic approach to it. EssentialPIM is more of a proper alternative to C-Organizer with task and information management capabilities. I highly recommend giving Rainlendar or EssentialPIM a go if you need task or information management without spending a dime.
Price: Lite version $29.95 / Pro version $39.95
Version reviewed: 4.7.1
Supported OS: Windows 98/ME/NT/2000/XP/Vista, Windows 7, Windows 8
Download size: 14.6MB
VirusTotal malware scan results: 0/46
Is it portable? Yes
Related Posts