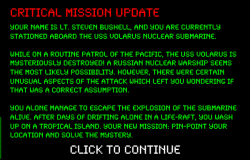 I have yet to meet a gamer who doesn't get nostalgic for the retro graphics of old school video games. If you grew up playing video games in the early 1990s, you probably have a secret soft spot for polygon graphics, simple game environments, and limited, simple controls. If you want to play a retro-inspired game on your Mac, there are tons of great options out there. But if you used to play games like Myst or The 7th Guest, chances are you'll really respond to Mystery Island II, point and click mystery game from Koingo Software.
What is it and what does it do
Main Functionality
Mystery Island II is a adventure-mystery game inspired by classic titles in the same genre from the 1990s. You arrive on a strange island, and must find your way around its unnerving landscape using left/right navigation controls and "point and click" actions. Along the way, you will gather objects and information that will help you to understand what is going on with this strange little island.
Pros
Extremely simple to navigate and interact with objects
Sometimes hard to figure out the next step, leading to lots of backtracking
Awesome, nostalgia-inducing graphics that ape 1990's video games
Totally creepy story that draws the player in to a world of sci-fi intrigue and danger
Cons
Inventory list is partially obscured by dock icons, which can't be reduced in size while the game is running
Default audio settings include a wonky computerized voice that reads the in-game text (however, this can be turned off)
Navigation is extremely limited
Some users might not like the retro, 1990's inspired graphics the game uses
You can't play the first Mystery Island game on OS X (it's limited to OS 7.0-9.0)
Discussion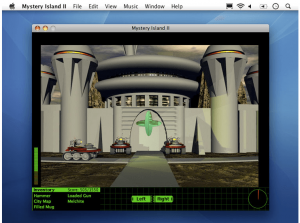 In Mystery Island II, you play as a Navy Seal who has just survived a deadly attack on his submarine from an unidentified vessel. A Russian nuclear warship seems the most likely possibility at first.
You are shipwrecked on a deserted island, the sole survivor of the incident. But as you begin to explore the island, you find that the Russians are the least of your problems. This island is the fortification of a group of hostile aliens, bent on exacting revenge on the human race. You must stop them, or else the world is surely doomed.
Mystery Island II blends together a lot of disparate elements from puzzle games, adventure games, and science fiction. It shouldn't work nearly as well as it does, but the story is really quite engrossing. The scoring system double as a sort of progress bar, letting you know how close you are to completing the game. While it is sometimes hard to know what the next step should be, this is no different from more famous titles in the same genre, such as Myst.
Conclusion and download link
If you want to walk a walk down memory lane, the retro-inspired graphics of Mystery Island II are sure to please gamers who long for the simplicity and atmosphere of older video games. Word to the wise: you can get the game for $5 from the developer's website…or you can get it for free if you purchase it through the Bodega marketplace. I wouldn't pay $5 for this game, but as a freebie it's worth taking for a spin.
Price: Free, $5
Version reviewed: 1.9.4
Requires Mac OS X 10.6 or later, Intel only. Also available for Windows 2000/XP or later.
Download size: 44.6 MB
Get Mystery Island II for free on Bodega, or for $5 on Koingo Software's site
Related Posts