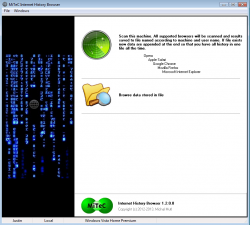 If you are like me, you use a lot of browsers. However, there is really no easy way to view the history of all of these browsers at once. This is because each browser maintains its very own and unique history. You can open up all of them and browse them that way, but it is very time consuming. Now, you can browse them all quickly and easily with MiTeC Internet History Browser.
WHAT IS IT AND WHAT DOES IT DO
Main Functionality
MiTeC Internet History Browser is a portable program that allows you to view the history of all of your internet browsers in one place. No longer do you have to worry about browsers storing their own individual histories, because you can easily view your entire history in one place.
Pros
View your browsing history in multiple browsers at once
Supports Internet Explorer, Chrome, Opera, Firefox, and Safari
Completely portable, no installation required
When you click on an item in your history, it provides you with the time, URL and an option to view the page in your default browser
All websites visited are displayed in chronological order
A search option is available at the top of the program
Cons
Would have been nice to have support for other browsers instead of just the five most popular ones. Maxthon, RockMelt, SeaMonkey, Avant Browser, and Deepnet Explorer are other browsers commonly in found in "Top Ten" lists.
Lacks a filter feature
No option to delete entries from your browser histories
No option to export your browser histories
Discussion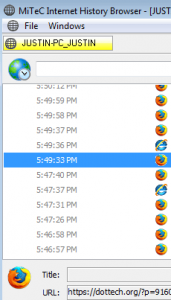 MiTec Internet History Browser is a neat little program. If you use multiple browsers, this is a program that already has something to offer you. It allows you to view the browsing history of all of your browsers in one area…assuming you are using the five most popular browsers that is.
For the most part, the program handles this task with ease. It quickly gathers your browsing history from Internet Explorer, Chrome, Opera, Firefox, and Safari and lists them in one spot. All of your entries are in chronological order, and the program even provides you with a search feature. When you click on an entry, it will provide you with the date and time you accessed that website. It will even provide you with a URL link that you can click on to open the entry in your default browser. To top it all off, the program is completely portable.
However, the program is far from perfect, as it lacks a few features I would have loved to see. For example, although there are few of us out there, it would have been nice to see the program show support for more than just the top five browsers. A little love for Maxthon, SeaMonkey, RockMelt and others wouldn't have hurt anything, just made it better. Also, the program lacks any kind of filter option and you are not able to export your browser history list. However, the feature that I wish it had the most was the ability to delete entries. I mean, I see them all right there, I should have an option to delete entries I want gone.
CONCLUSION AND DOWNLOAD LINK
Despite a few missing features, MiTeC Internet History Browser is a solid program for anyone who uses multiple browsers often and wants to keep up with their browsing history across all the browsers. It works quickly, and it is nice to see browsing entries from multiple browsers all pulled together in one program. Who knows, maybe we will see more features added in future updates that will make this program even better.
Price: Free
Version reviewed: 1.0.0.0
Supported OS: Windows 2000 / XP / 2003 / Vista / 7 / 8
Download size: 1.3MB
VirusTotal malware scan results: 0/44
Is it portable? Yes
MiTeC Internet History Browser homepage
Related Posts