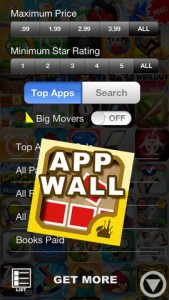 Yesterday, I brought you word on Book Wall, an iPhone app developed by Merge Mobile. This book-finding app presented each title in an attractive mosaic format. However, I was ultimately a bit underwhelmed by the whole app experience. The lack of wishlist features, paired with a lack of basic book info in the descriptions was enough to turn me off. It was also annoying that users couldn't block recommendations books by author or refine browsing results by language.
Merge Mobile has another app that interests me, however. It's called App Wall, and since it has been around for longer than Book Wall, perhaps it will be a bit more flush with features.
What is it and what does it do
Main Functionality
App Wall is a useful app if you're trying to see what's new and popular in the App Store, or if you're a bargain hunter in search of a discount on a popular app that you haven't been able to pull the trigger on just yet. Like Book Wall, App Wall makes use of a mosaic tile format for presenting the top-ranking apps.
Pros
App Wall presents apps that have been recently placed on sale and are in the top 300 of their respective category
Custom search
Ability to alert friends to cool apps via email
App Wall tracks "Big Mover" apps. These are defined as apps that have moved up the rankings by a large amount in a short amount of time, suggesting that they have recently become popular
Attractive mosaic display lets you review apps at a glance far faster than in the App Store app
Filter apps by price or user rating
Cons
Filter system is a bit odd. You can't set the maximum price at "Free," though you can browse just free apps in individual categories
Some users may not like the "judge a book by it's cover" style of browsing by mosaic view (thankfully, there is a list view)
As with Book Wall, it would be nice if App Wall could let users filter results even further, say by blocking apps by developer
Discussion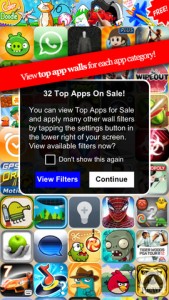 Maybe I'm just pickier when it comes to books, but I found App Wall vastly more enjoyable to use compared to Book Wall. The two apps are virtually identical in terms of designs and features, but App Wall seems far better suited to the task of sharing what's new and popular.
I'm always looking for an App Store bargain, and App Wall is a good way to find bargains. However, I have to admit I prefer the cleaner, less cramped interface of App Sale Hunter for tracking apps that go one sale.
As with Book Wall, App Wall lacks a way to create a wishlist of apps. It only makes sense that an app that helps you track sales would let you put apps you were interested in buying on sale on a list, after all. While Book Wall came off cold, and like it hadn't been designed by book lovers at all, I didn't get that feeling from App Wall.
Conclusion and download link
App Wall is a great way to quickly browse a list of popular apps, find sales, or buy apps on impulse. However, if you want an app that will let you create wishlists or track apps before you buy them, look elsewhere. App Wall is a good tool for discovery, but less good if you're the kind of App Store shopper who likes to mull over new apps for a while before pulling the trigger.
Price: Free
Version reviewed: 1.3
Requires iPhone/iPad/iPod Touch, iOS version 4.0 or later
Download size: 3.0 MB
Related Posts