I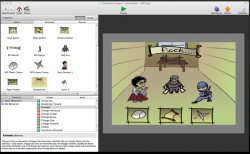 've always toyed with the idea of making my own video game. For a long time, I supposed that I would just have to create an old-school text adventure game, since my programming skills are pretty darn meager. But then I heard about a really cool program for Windows and Mac users that lets you easily create games using drag and drop controls, a preloaded physics engine, a huge library of images, and tons of established "character behaviors." Best of all, you don't need any programming experience to get started. The name of this wondrous program: GameSalad, of course!
What is it and what does it do
Main Functionality
GameSalad lets users create innovative game mechanics in all sorts of genres by utilizing a fully integrated physics engine. Game that you create can then be shared on the web, iOS, Android, and more. You can test games directly on your target device, and get accurate and vital statistics on your game's performance.
Take note GameSalad is for Windows and Mac OS X. We specifically reviewed the Mac OS X version but the features across the two platforms are more or less the same.
Pros
Simple to use: a visual "drag 'n drop" interface means you don't have to know how to program to make your first game
Large community of fellow creators to chat with, some 350,000 in all
Big success: 60 games created with GameSalad made it to the AppStore Top 100
Build games on your Windows or Mac and publish them on iOS, the web, Android, and more
Cons
Program is still in Beta
Beyond Mac system requirements (Mac OS X 10.7+), users also need Xcode 4.3 with Command Line Tools for iOS Support, plus Android SDK for Android support.
You have to upgrade to Pro for more features
Discussion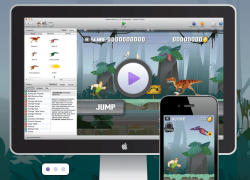 Creative types might balk at the idea of using a "pre-loaded" app to start creating their own original games. It does take some of the fun away, and makes the game less unique. However, importing your own art and sound is as easy dragging them into your desktop.
GameSalad provides everything you need to get your game from concept to execution. Simply download the tool to a your Mac, install, and start making games. There's no tutorial, which sounds like a bad thing, but it's actually quite good. You can get your feet wet right off the bat!
Suitable for kids and adults alike, GameSalad is quite an interesting little program. Who says you can't teach an old dog new tricks? Learning a new skill has never been so easy.
Conclusion and download link
Playing games will always be more fun than building them from scratch, and no game building tool can make the process truly painless. That being said, GameSalad is the best way for people with no programming experience to build a game of their own. The interface is simple, the content library is robust, and it is very easy to add your own images to make a creation that is all your own. If you have even a passing interest in making your own games, you do yourself a disservice by not checking out this free app.
Price: Free
Version reviewed: 0.10.1 beta
Requires: Windows or Mac OSX Lion or later; Core2Duo or later CPU required

Download size: 30.5 MB
Related Posts