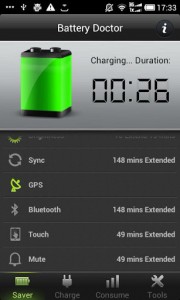 Battery Doctor is an application designed to extend the overall battery life on your smartphone. This app is great for power users who are constantly using their smartphone throughout their day to perform both simple and advanced tasks. It is also great those who have tried other battery saving applications in the past and are dissatisfied with the features or the interface.
Be sure to also check out dotTech's review on Best Free Battery Saving App for Android.
What is it and what does it do
Main Functionality
This application is simply designed to save your battery life by giving you complete control over your smartphone's connections and power-using features. While you can control everything, the application also offers automatic solutions so you can figure out how different aspects affect your battery life.
Pros
Tells you which apps are consuming the most battery
Accurate power predictions
Automate connection toggles
General power-saving tips
Faster charging
Charging logs and application reports
Easily adjust aspects with widget
Cons
Limited device compatibility
Inconsistent results
Alerts you if device is charged for too long
Discussion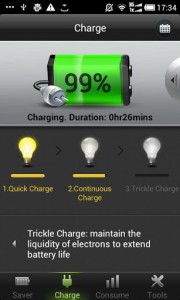 There are quite a bit of battery saving applications available for Android devices. So much so in fact that it can be rather difficult to sort through them all in order to find the best one. For the most part, they all save your battery by using relatively the same methods. They shut off certain services that you might not be using at the time so your phone doesn't require as much power. What sets them apart is how obtrusive or unobtrusive these shut-offs can be to your work flow. The overall interface of the application also plays a big role as most people who try battery saving applications for the first time are truly overwhelmed by all of the settings and toggles that are available.
Battery Doctor is perhaps one of the few battery saving applications that offers convenient shut offs and an easy-to-understand user interface. When you first launch the application, you are greeted with an accurate display of how much time you have before your battery dies. You then get a concise list of all the potential services you can toggle. These features are not unique to Battery Doctor, but how they are presented is. There are several different categories and these two aspects are the first one. You are then presented with a charge category that will tell you how long you have to charge your phone for so that it has a complete charge. It will also give you an overall rating on your charging habits. This is where the app will display general tips on how to save your phone's long-term battery life.
Moving through the different categories, you will come to the mode category. This will offer three options: custom mode, clock mode, and extreme mode. The custom mode will give you complete control, the clock mode will only keep your alarm clock on for sleeping times, and extreme mode will only have your phone function working in the case that your phone is about to die. The next category is the consume category which will only display information. It will tell you which specific applications are taking up the most amount of battery power.
While this application is feature rich and incredibly easy to use, there are few setbacks. For starters, it seems as though the application is not compatible with most Android tablets. This is unfortunate because they are equally important in most of Android's ecosystem. Additionally, it seems as though some users are actually reporting that this application seems to be draining their batter more than saving it. This undoubtedly has to do with the settings they are using but it is still something to be aware of. Perhaps the oddest thing is that this application will alert you when you should unplug your phone. The reason for this is because it is not healthy for your battery to remain on a charger when it is full. This actually damages the battery long term. However, most people charge their phones over night and certainly do not want to wake up in order to unplug their phone.
Conclusion and download link
Overall, this application is fantastic and provides a functional service that can be appreciated by nearly every Android user. The downfalls of this application might be bigger deals for certain people, but generally speaking, they will not effect your overall enjoyment of the application. Once the application begins to support tablet devices, you will begin to see its popularity rise undoubtedly.
Price: Free
Version reviewed: 2.1.4
Requires: Android 2.1 and up
Download size: 3mb
Be sure to also check out dotTech's review on Best Free Battery Saving App for Android.
Related Posts