Pre Windows 8, you can manage installed programs from Control Panel (Add/Remove Programs). From here, you can also view how much hard drive space a specific program uses. In Windows 8, this still works… but it only works for non-Windows Store programs. That means you cannot see how large your Windows Store apps are from Add/Remove Programs. Thus, in this article, I will show you how to view the size of installed Windows Store apps on your Windows 8 tablet or PC
HOW TO VIEW SIZE OF WINDOWS STORE APPS
To know the size of installed Windows Store apps, you should do following:
Pressing Windows + I hotkey, if you are using a tablet, you need to swipe from the right screen edge, then choose Change PC Settings at the bottom.
It will open PC Settings, in this window, you have to select General in the left side.
In the right side, you will see many options. What you need is the "Available Storage" section. It shows the free space of your primary disk drive.
To view Windows Store apps size, you just need to click/tap "View apps size" button.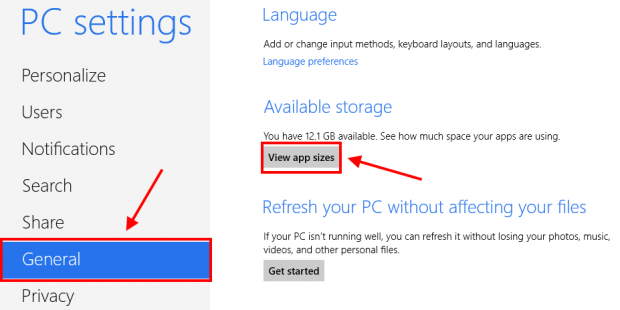 You will have to stay at that dialog to wait it determine apps size. If you switch to another window/app or just click/tap some place outside the running dialog, it will close and you have to wait for it again.
This list shows the apps size from large to small in MB.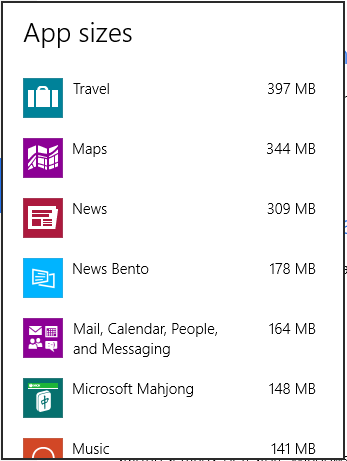 CONCLUSION
Unlike Add/Remove Programs in Control Panel, you only can see apps sizes from the method I showed above — you can't uninstall apps directly from there. To uninstall a Windows Store app, you have to go to Start screen, right click/long tap on the app and select Uninstall in the bar below.
Hope you find this article useful.
Related Posts