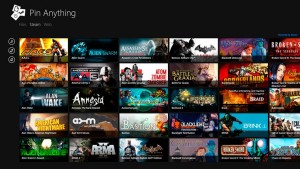 Pin Anything, as the name suggests helps you pin anything to your Start screen. From files to Steam games to your favourite website, you can pin anything to your Start screen on your Windows 8 machine (i.e. create a tile for anything on Start screen). And the best part is the customizability of the tiles you have pined. You many options including selecting your own pic, editing, etc.
What is it and what does it do
Main Functionality
Pin Anything is a Start screen pinning app that helps you pin virtually anything to your Windows 8 Start screen.
Pros
Helps you pin virtually anything (files, images, websites, etc.)
Highly customizable with many options
Easy to use UI
Cons
Doesn't provide option to pin .exe by default — you need to apply a workaround
No live tiles support
Ad supported
Discussion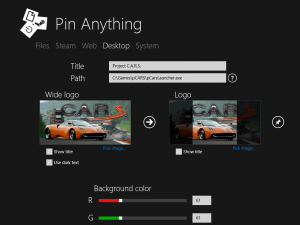 Pin Anything is a useful productivity app for your Windows 8 machine. You can pin apps to your Windows 8 machine by default, but for many apps like your Windows 8 desktop ones, you just get a pic of the icon, which isn't very appealing to see. With all live tiles updating all round, if you see a boring low res icon as your tile for that app, it makes us feel bad about that part of the start screen and we push it out if the view.
Thanks, to Pin Anything you don't have to bother about this aspect any more. The developers clearly realised the shortcoming and got busy and delivered us this app. With this app you can virtually pin almost anything. The UI is bare bones and perfectly does its job. You have to pick your file, upload an image, tinker around with your colours and voilà, you have beautiful High-Def tile ready for your app.
One of the main selling point of this app definitely has to be the support for the Steam games. As the developers say, you also can pin steam games, though you would be requiring a Steam Game and account to begin with. And sorry, Windows RT users, this feature isn't available to you, as there is no Steam Client for RT yet.
This app is simple and solves a big headache. But one big problem, I noticed was that it doesn't support, .exe files. I was shocked by this. But there is a walk around this. All you have to do is download the launcher from http://launcher.snowydune.com/ and then install it. You also can activate the launcher from the menu, which would lead to the main website. Another main problem in this app was that none of the tiles were live. There simply was no live tiles support. I hope developers take note of this and come up with live tile support. There are ads in the app though they only occupy a small corner on the top and definitely don't hider the user experience.
Conclusion and download link
In conclusion, Pin Anything is great app for pinning anything to your Start screen. There are a few cons, but nothing really worth bothering about. All you have to do is download the app, sit tight, and redesign your whole Windows 8 Start screen.
Price: Free
Supported OS: Windows 8, Windows RT
Supported architectures: x86, x64, ARM
Related Posts