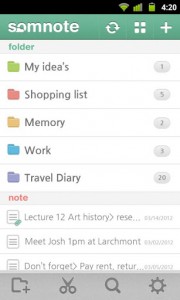 SomNote is a note taking application that aims to offer a simple solution to capture your ideas and other important things around you. This application is perfect for those who don't like simple note takers and who aren't thrilled with some of the high powered ones either. It is also great for those who need cloud syncing to  complement their busy schedules.
What is it and what does it do
Main Functionality
This application is designed to provide a central and convenient location for all of your note taking. It is without a doubt the most popular alternative to Evernote as it provides similar features with a much more unique user interface.
Pros
Simple and effective note-taking
Cross platform
SomCloud
Offline support
Strong organization system
Upload any file, image, or document
Popular social features
Secure protection
Effective widgets
Cons
Instability and occasional bugs
Poor sorting options
Discussion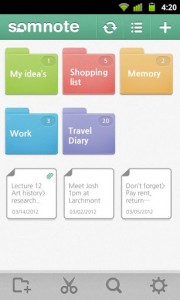 Note taking has been getting more and more popular on mobile devices and is being achieved by a wide variety of applications. This is in part due to the rapid increase of interest in cloud storage. As a result, we've seen an even bigger increase in note-taking applications that range from extremely basic to complete and feature-packed. Each have their own advantages and their own targeted audience. SomNote is aiming to provide a strong competitor in the feature-packed corner of the note-taking application market while providing a simple and accessible user interface.
As expected, you will get all of the standard note taking options in addition to all text functions that Android supports. This application is cross platform so you can use it on any Android or iOS device you own in addition to the convenient web interface. The web interface will also serve as the home base for SomCloud, the system that has been set up to sync your notes to any device that you have the application installed on. The cloud will also support the downloading of notes and files so that you can achieve complete offline access on your most important notes. The great organization system allows you to create folders and add a variety of files to your notes, making sure that all of the information you need to present and exactly where you want it to be. You are also given great sharing functions in addition to a password-style security system so that you can choose the specific people that you want to see your information.
This application is incredibly well done and actually doesn't have a lot of negative aspects. Perhaps the biggest annoyance is that while it offers fantastic organization through folders, you cannot sort your notes alphabetically, a feature that absolutely should be present in a note-taking application. Additionally, my tests have resulted in several force closes, particularly when long-pressing on items. Luckily, both of these aspects can be fixed with an update and aren't related to the core functionality of the actual application.
Conclusion and download link
SomeNote is a highly effective note-taking application that provides a great interface to do so. In fact, the interface is extremely refreshing when compared to the likes of Evernote and Springpad. As a result, it is one of the few high powered note-taking applications that I can honestly recommend to people who might not be so tech-savvy. The application provides a highly functional service that can easily keep up with any of the top competitors.
Price: Free
Version reviewed: 1.1.6
Requires: Android 2.2 and up
Download size: 8mb
Related Posts