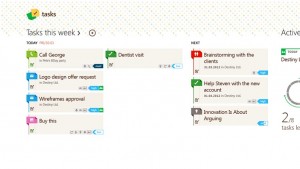 Tasks by Telerik helps you organize your life with precision and manage time with ease. This app by Telerik is great tasks app by the pros in the game. This app promises to be your best friend and help you manage your planning, organizing and monitoring the progress of all your projects. With many features touted by Telerik, this is one app you must give a try to bring back order into your life.
What is it and what does it do
Main Functionality
Tasks by Telerik is a to-do list app with many advanced features like project management and syncing options for your Windows 8 machine.
Pros
 Task reminders/notifications with voice notes and location capabilities
 Brilliant and intuitive UI
 Live Tiles support
 The settings allow custom functionality adjustments
 Organization is good with clever filtering and sorting
 "Search" and "Share" charms bar support
 Option to synchronize with Microsoft Exchange Server and Office365
Cons
 Many features are available only for 21 days, after which you have to buy the full version
 The sync support for other online services would be appreciated
 UI works slow and is buggy on some devices
 App needs more work done and more updates for proper syncing across all devices and platforms
Discussion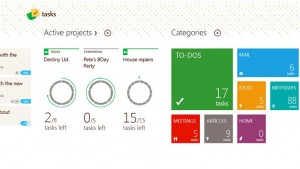 Tasks by Telerik is one of most downloaded to-do app in the Windows store, and this is for a reason. The app has many features and has a very intuitive UI. The UI to be begin with was built with the Metro UI principles in mind. It is fast and fluid though there were reports of bugs on the RT device.
And the most important aspect of the app, the tasks and the reminder part is solidly built. It does its job and has a lot advanced features like locations based notes and voice recorded notes. The tasks can be assigned to project and a category, with different priorities. You have options to add an email, phone number and an URL.
There is also the usual Live Tile support with the due tasks cycling in the tile. Also the application settings allow custom functionality adjustments. The organization of the tasks is pretty good, I felt with clever organizing using nice design, filtering, and sorting. There is also the usual charms bar support for "Search" and "Share". Options to to sync with with MS Exchange Server and Office 365.
But the app does have its share of cons. To begin with many of the much touted features of the app are available only for 21 days after which you have to activate it. Sync support for many other famous online services like Google Tasks would be very handy. There were also many users complaining of the UI going slow on some devices and then the app itself slowing down after many tasks being queued. The app in the end has to a lot of work to be done so that it is optimized across different platforms. The developers do have their task cut out.
Conclusion and download link
Tasks by Telerik isn't actually as great as it is touted by the developers. The app's best features are all locked up in the paid version and are only available for 21 days in the free version. The app does have its plus points and the app is pretty solid in the features it has. Do give this app a try but I am not sure if it has enough to make you change your current planner.
Price: Free
Supported OS: Windows 8, Windows RT
Supported architectures: x86, x64, ARM
Tasks by Telerik on Windows Store
Related Posts