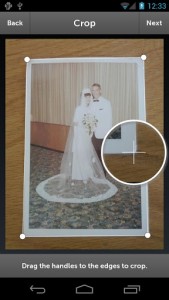 ShoeBox is an application that will help you turn your physical photos into digital photos, making them easier to edit and share with your friends and family. This app is great for those who have a lot of old photos that they want to preserve or share with people who are not living nearby. It is also great for those who are creating digital photo albums and want to use older physical photos that they do not have stored digitally or cannot re-create.
What is it and what does it do
Main Functionality
This application is primarily designed to make storing and preserving physical photos more convenient by digitizing them. It aims to produce the best possible photo quality given the hardware that it has to work with.
Pros
Edge detection
Perspective correction
Organize photos into collections
Add location, date, and other tags
Share photos or keep them private
Cons
Potential quality loss
No zoom support
Discussion
ShoeBox is an incredibly unique application that allows you to digitize any physical photo you have. This is an interesting concept as most photo albums now exist online due to a variety of different reasons. One reason is that is is good to have a digital copy of your photos is so you can make edits to is in order to update the quality and color. Additionally, it makes it incredibly simple to share the photos with friends and family who live far away and are unable to see your physical photos. On top of all that, digitizing you photos will preserve them in case of an accident or any other event that might damage your physical photos.
The application features edge detection, so you can capture only the photo you want and nothing extra. This makes cropping unnecessary after you take the initial capture. It will also feature fully functioning perspective correction which will increase the overall quality of your photos. The application also features shoeboxes, which are basically the application's term for photo albums. You can organize all of your snatched photos in shoeboxes in order to optimize your organization. You will then be able to add the location, date, or any other tag that you feel is important. You will have complete control over who sees your photos due to the ability to privatize and share any photo you want.
The only major downside of the application has nothing to do with application's function. As you can guess, your digitized photo will only be as good as the camera on your device. This can pose a problem because you may have some physical photos that are better quality than what the camera on your device is capable of producing. Fortunately, the majority of the photos that will be taken with this app will be somewhat old, so  it is likely that your device will feature higher camera technology than the initial photo. Additionally, there is actually no zoom function in the application, making some photos difficult to actually view on your device.
Conclusion and download link
Generally speaking, this application provides an exceptional service that can be of use to many people. The functions almost flawlessly and really doesn't have a necessary alterations to make. It is timed perfectly as more and more people are taking their photo collection to digital devices due to the overall convenience and organizational aspects. Most older photos will actually come out looking better due to application's built in optimization.
Price: Free

Version reviewed: 2.1.4
Requires: Android 2.2 and up
Download size: 5mb
Related Posts