Do you like to download music? Or maybe you prefer other audio files, like podcasts or religious stuff. Whatever the case may be, if you are looking to download anything audio, Music Download Center is for you. This is a light program that helps you both find and download music and other audio files, plus listen to the radio.
WHAT IS IT AND WHAT DOES IT DO
Main Functionality
Music Download Center is a lightweight program that is designed to help you find and download music and other audio files. It pulls music and other audios from various different websites and allows you to download it. Plus you can listen to streaming internet radio stations. The program even makes it easy to share music with your friends over social media sites like Twitter and Facebook or send them music via email.
Note: Please realize that the legality of the files you download with this program will depend on the laws of your country. Music Download Center itself does not host any files but rather indexes them from various websites on the web. Only use this program as defined by the laws of your country/region. dotTech and its writers are not responsible for any illegal activities you may do.
Pros
Indexes music and other audio files from various different websites, making it easy for you to find and download whatever you want

At the time of this writing, Music Download Center supports mp3skull.com, vmp3.eu, wuzam.com, dilandau.com, vpleer.ru, soundcloud.com, mp3skip.com, emp3world.com, mp3fusion.net, wrzuta.pl, goear.com, and prostopleer.com

Allows you to enable/disable specific websites from the index
Allows you to stream audio files you find before downloading, sort of as a preview
Allows you to listen to online radio stations
Allows you to stream from a URL, if you have
Has a built-in browser which allows you to surf the web to find music/audio files from websites not directly supported by Music Download Center
Has a history to keep track of what you streamed or downloaded
Share your findings via social media sites like Twitter and Facebook
Send people music and other audio files via e-mail
Has a built-in audio player
Cons
Comes with bundled crapware. During installation be sure to select 'Custom installation' and uncheck all the boxes to avoid installing the unnecessary third-party crapware.
Not the best built-in browser or audio player
The program window opens with content cut off. You need to manually expand the size of the window to see the whole program window.
Doesn't tell you what type of file you are downloading or the quality of the file
Doesn't appear to be any way to clear history
Discussion
Music Download Center is one of those programs that may look confusing at first, but you need to try your best not to overthink this program. In fact, it is so easy to use that it is easy to overthink it. For example, when I first start using a program, I like to go in and try to figure it out myself. Usually, if I can figure it out without any help, so can you guys. So naturally, after opening this program, I started the program and looked for sites with music on them. However, after I found sites, I could not figure out for the life of me how to download the music. As it turns out, I was supposed to use the 'Search' functionality built into the Music Download Center. It also didn't help that the program window for Music Download Center is not properly sized when you first open it. You have to click + drag the right edge to enlarge the window to see the whole program.
Pretty much this program is used to search for music and other audio files to download. Finding something to download is very easy. Go to 'Search' from the left and start searching by typing your query in the textbox in the top-right corner. Search results are displayed at the bottom of the program window, with each result having a 'Download' button. Take note that the program has no control over the file type or file quality that you download because the program itself doesn't host files, it allows you to download from websites. In fact, the program doesn't even bother to tell you the file type or quality of the audio files you download.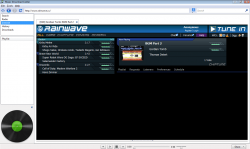 If you don't like the 'Search' functionality, you can use the built-in browser. Yeah, instead of adding toolbars and other stuff to your current browser, this program comes with its own built-in browser. This browser is not the best in the world… but shocking as it sounds, it is not the worst I have ever used. Remember, this is not built to be your standard browser, so don't try to make it be. To get to the browser, simply click on 'Internet' on the left hand side (be sure to close out all of the green notifications before opening the browser or everything comes off looking squeezed). After opening the browser, you can either put the URL into the address bar or use the Google search box located at the top of the browser. Once you find music or audio on a site you are viewing, the program will display it and ask if you would like to download it, or simply listen to it.
It takes a bit to get used to this program's interface, but after messing around with it, you will understand it. If needed, there is an online help section that you can view under the "Help" tab.
CONCLUSION AND DOWNLOAD LINK
Is this program the best music/audio downloader? Probably not. However, that does not mean that it is not a good one. Since the program is free, it is at least worth checking out if you are looking for a music/audio downloader.
Price: Free
Version reviewed: 0.6
Supported OS: Windows 2000/XP/Vista/7/8
Download size: 14MB
VirusTotal malware scan results: 0/37
Is it portable? No
Music Download Center homepage
Related Posts