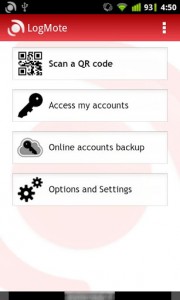 LogMote is a unique application that will store all of your login information for various websites on your phone, making logging in on websites significantly easier. This application is great for those who bounce around between personal and public computers over the course of their day. It is also great for those who use complicated passwords and don't like typing them out every time they log into a service.
What is it and what does it do
Main Functionality
This application is designed to automatically transfer your login information from your Android device to any computer that you may sit down at. It is designed to make it so that you do not need to manually enter your login information whenever you are are a new computer.
Essentially what LogMote does is it stores your login information on your Android. Then when you are on a computer, you use your Android to send the login information to your computer and easily login. The following video demonstrates:
Pros
Store login information for any website
Connect to computer easily via unique QR code
Automatic login to websites once you scan QR code
Recover information in case of theft
Cons
Requires browser extension or Logmote software on desktop computer. Only works with Chrome, Safari, and Firefox. No Internet Explorer and Opera support.
Discussion
It seems as though the trend of password-less authentication is starting to pick up as more and more people begin looking for more secure methods to access their most-used web services. While, LogMote doesn't use any new technology to bypass passwords in general, it does however provide a solution so you don't have to manually enter your information. Essentially, all of your login information for any website that you want is stored on your Android device. Then once you sit down at your computer, all you have to do is scan a QR code, and you will be able to access any service you have predetermined without manually entering any personal information. This is a good way to do things because it protects your data from anybody that might be watching your computer screen.
You will be able to store data from any web service that requires a username and password combo, which is more or less every website on the internet. The QR code that you scan is completely unique to you, so you don't have to worry about other people being given the opportunity to have access to your personal information. Once you scan your personal QR code, you will then be given a list of services in which you have your login data stored for. All you have to do is click on your service, and you will be logged in, without have to manually enter in any data. The application itself is compatible with Windows, Mac and Linux operating systems running Chrome, Internet Explorer, or Safari web browsers. This means that no matter what combination your target computer is running, you're covered.
While LogMote is a very simple application and in fact very functional, there is one major downfall in the application's functionality. In order for you to be able to automatically log in to web services, the computer must either have LogMote's desktop software or LogMote's browser extension installed. For Chrome users, this won't be a problem as Chrome syncs browser extensions between computers using the same profile. Even Mozilla is set to add this functionality is the next release of Firefox. However, for Internet Explorer users, it is going to be rather inconvenient to use public computers as most of them do not allow the installation of 3rd party software. This means you have to install the browser extension on each and every computer you use.
Conclusion and download link
Overall, LogMote is a very functional application and will be very convenient for those who are able to sync browser extensions across multiple devices. If that ability is not present, then the service may actually cost you more time than it is actually worth. There is a premium subscription that will backup all of your data in case your phone becomes lost or stolen or if you simply get a new one. This type of authentication is growing very popular and will undoubtedly become a stock feature in a variety of technologies in the coming years.
Price: Free, $1.99 (3 months), $5.99 (1 year), $11.99 (lifetime), $0.99 (remove advertisements)
Version reviewed: 1.1.3
Requires: Android 2.2 and up
Download size: 7mb
Related Posts