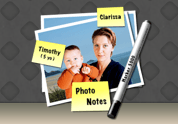 I miss physical photo albums. Not often, but on occasion. One of the things I miss most is seeing handwritten notes on the backs of photos, particularly in my parent's old albums. Yeah, modern photos have plenty of annotations of their own, but there's something that's still nice about the old way.
That's why I was intrigued when I came across PhotoNotes, a smart bit of Mac software that lets you organize and annotate your photos with smart notes. If you want to ensure that your digital photos have the same useful information as your analog ones, this useful tool can help you keep all that information synced in a clear, concise system.
What is it and what does it do
Main Functionality
PhotoNotes lets users attach labels and notes to their digital photographs. You can mark photographs with the names of friends and family, or organize them by location, or any other notation that works for you. As a bonus, PhotoNotes is integrated with the Mac OS X Address Book, so it is easy to pick a name for a label.
Pros
Free and integrated with Max OS X address book contacts
PhotoNotes automatically displays the age of the person on that photo, by cross-referencing the camera date with their birthdate in your address book contacts list
Your albums are automatically indexed and when you search for a person from Spotlight
PhotoNotes allows you to export your labelled photos as an interactive HTML page
Cons
You must select photos to import yourself, the program won't do it for you.
PhotoNotes really needs better customization for the labels: colors, fonts, size, something!
Discussion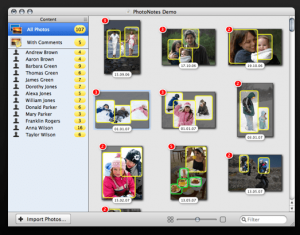 The latest version PhotoNotes includes an important workaround for a bug in Mac OS X 10.5 Core Data that could have caused data loss. That's great for the peace of mind of its users.
Start using PhotoNotes by either importing the photos you want from Finder or from iPhoto. The program will sort your photos by which have labels, and which do not. Adding labels is simple: just double click on a photo, then drag on the section where you want to affix your label.
You must select photos to import yourself, because the program won't do it for you. However, that's kind of a good thing. Most people I know have a ton of photos on their hard drive, but not all of them are still important to them. Having to pick and choose the photos you want to label in PhotoNotes saves you the hassle of having to delete a ton of images en masse.
Conclusion and download link
While it lacks bells and whistles in terms of labeling or photo imports, PhotoNotes is worth checking out. There is no way to have this program automatically detect and pull in your photos with ease, which is sort of a bummer. But in the end, this saves you a ton of time.
Price: Free
Version reviewed: 1.0.1
Requires: Mac OS X 10.4 or later
Download size: 1.2 MB
Related Posts