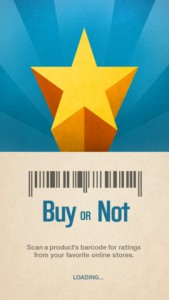 About two weeks back, we reviewed an iPhone app called Consumr. What made Consmr different from other similar apps out there is the fact that the scanner doesn't just provide info about the product you are looking up, but also looks up alternative and related products. Simply use your camera to scan the barcode on an item, and you will see product reviews, "better buy" alternatives, and other nearby locations where you can purchase the same item.
It was a decent app, but I wasn't totally satisfied. In my quest for the best shopping app, I decided to check out BuyOrNot. Unlike Consumr, BuyOrNot is only about product reviews and offering suggestions for places to buy an item: if you want price comparisons or product suggestions, BuyOrNot is sure to disappoint.
What is it and what does it do
Main Functionality
BuyOrNot lets users scan an item's barcode, and then receive a listing of websites with tons of user reviews to help you make an informed purchasing decision. That's it.
Pros
Lightning fast camera that works in any orientation
Super minimal interface: you take a picture of the UPC, and get places to buy the item elsewhere, as well as a rating
Great blend of listings across all kinds of consumer categories, unlike other similar apps
Ratings are presented on a five star system, but you can also click through to the item's page to see the qualitative review data.
Cons
Price of the item is not returned in the search, making this app inappropriate for price comparison or bargain hunting purposes
In testing, not a single physical store location showed up: keep this in mind when researching.
There is no method for the app to recommend related items over what you searched for.
When an item isn't listed in the database, the camera doesn't take a picture: nothing happens, not even a notification to let you know that the app has no info for you.
Discussion
If what you crave in a product review app is simplicity, the super-streamlined and minimal interface of BuyOrNot will be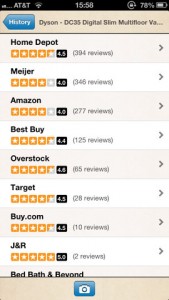 to your taste. The primary goal here is just product reviews, not price comparison or product recommendation. That makes this a handy app for when you are shopping in a store, and want to compare a number of similar items on the shelf. It would be perfect for picking out a new printer or comparing different e-readers, for example.
Now this app is only on version 1.0, so more functionality may be coming in future updates. It would make sense to include price info, seeing as the app already pulls info from online retailers. On the other hand, I really appreciate how streamlined this product review app is.
The highest marks of all go to the camera. I've used a ton of different barcode scanners over the years, and all I can say about this one is "Holy cow!" I've never seen an app that can capture a barcode image so quickly, or in any orientation. The only downside is how the app reacts when it has no search results.
Conclusion and download link
If you like the experience of browsing in a physical store, but don't want to give up your access to the plethora of user reviews that you get when you comparison shop online, BuyOrNot is just the tool to help you pick the best item for your needs. Whether you're hunting down the best new audio equipment, or the best herbal supplements, this app has got your back.
Price: Free
Version reviewed: 1.0
Requires iPhone/iPad/iPod Touch, iOS version 5.1 or later
Download size: 5.0 MB
Related Posts