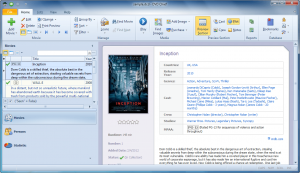 I'm not much of a DVD/Blu-ray person (I prefer streaming or [legal] downloading), so I don't own a lot of DVDs. However, if you do own a lot of DVDs or Blu-rays, then you may want a program to help you better organize your collection by cataloging all your films or TV shows. DVD Chief claims to do just that. Let's see how it does.
WHAT IS IT AND WHAT DOES IT DO
Main Functionality
DVD Chief creates an offline database of all the movies or TV shows you own (or want to own/watch). This database stores information about movies (title, cast, genre, crew, studios, MPAA rating, description, runtime, release date, countries released in, plus cover image and any other images you want to add) etc. Movies are organized within this database and you can easily find movies by searching, with the ability to search and find movies by pretty much any criteria you can think of: title, cast, genre, MPAA rating, IMDB rating, barcode, country, etc.).
You input movies into the database by either manually entering their names then having DVD Chief pull movie info from various different online movie database websites (including IMDB and Amazon), or having DVD Chief automatically pull movie info from a DVD, Blu-ray, video file, or ISO.
Take note DVD Chief does *not* rip movies or TV shows. It only catalogs them, i.e. stores information about them.
Pros
Allows you to input movies manually or have DVD Chief automatically grab movie info from DVDs, Blu-rays, video files (all major video formats supported), or ISO images
When inputting manually, all you have to do is input the movie name and DVD Chief then pulls the relevant movie data from an online database and stores it inside DVD Chief's database, which is then available offline

Supports IMDB, DVDEmpire, DVDList, Blu-ray.com, Amazon, Kinopoisk, TheTVdb, and TheMovieDB

Movies can be pulled in batch from online databases and stored inside DVD Chief
Works with TV shows, too
Stores a significant amount of information about each movie/TV show: title, cast, genre, crew, studios, MPAA rating, description, runtime, release date, countries released in, plus cover image and any other images you want to add
The database of movies/shows is highly searchable; you can search by over two dozen criteria, including but not limited to title, cast, rating, studio, and runtime
Once you have a movie or TV show in the database, you can manually edit any of the information about it, if you like — including add images
Allows you to mark movies/TV shows as seen, unseen, in collection, on wish list, on order, not in collection, for sale, or loaned to someone and filter by these criteria
In addition to movies/TV shows, stores data about people related to movies (actors, directors, etc.)
You can have multiple different databases
…And more
Cons
Not 100% bug free
Laggy interface
Semi-resource intensive (opens at roughly 75 MB of RAM and RAM usage only goes up as you use the program or increase database size)
Discussion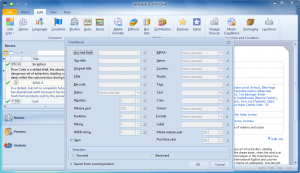 On paper and in screenshots, DVD Chief looks like an impressive program to organize and catalog your movie/TV show collection. After all, just look at that 'Pros' list! The problem, however, is DVD Chief is not ready for prime time (no pun intended).
Forget all other features of DVD Chief. The main feature of DVD Chief is adding movies and/or TV shows to its offline database. If DVD Chief is unable to add movies/TV shows, then it is a useless program. And that is exactly where I ran into issues with DVD Chief.
The first issue I had with DVD Chief was when I tried to test its ability to automatically pull information about a movie from a DVD. The DVD I tested DVD Chief with is my four (five?) year old Jurassic Park III movie. I put the DVD into my laptop, fired up DVD Chief, and tried to import Jurassic Park III into DVD Chief. When I did that, I ran into an error: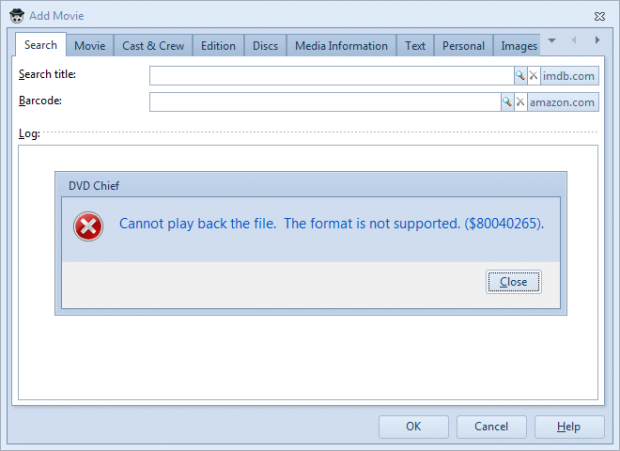 I tried it again, thinking maybe I did something wrong. Same error. Again I tried. Same error. DVD Chief just refused to pull movie info about Jurassic Park III from my DVD!
This leads me to conclude one of two things. Either DVD Chief is a buggy piece of $h!t and it cannot import movie information from a DVD (and presumably unable to import information from Blu-rays, video files, and ISOs either, but I did not test that functionality) as the developer claims, or DVD Chief is unable to import movie information from DRM-protected DVDs (and presumably Blu-rays, either). I don't own any other DVDs to test which it is (I told you I'm not big on DVDs) but neither option is favorable.
After being unable to automatically pull movie information from a DVD, I thought I should give the manual method a try. So I inputted "Jurassic Park III" in the 'Search title' field and searched for it from IMDB. Guess what happened? Absolutely nothing — it gave me another error: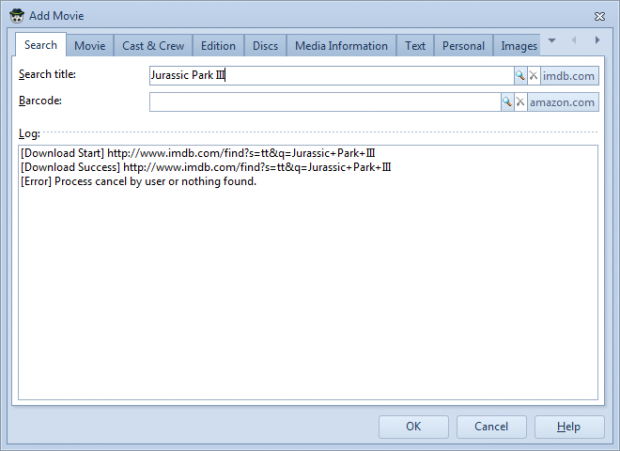 I thought to myself: "Okay, maybe, for whatever reason, Jurassic Park III is not available on IMDB". So I tried other movies. Same issue. DVD Chief is unable to download movie information from IMDB! As it turns out, DVD Chief is also unable to download movie information from Amazon and TheTVDB; it works fine with the other websites.
CONCLUSION AND DOWNLOAD LINK
The list of features for DVD Chief is impressive. However, the program is too buggy for me to recommend it to anyone. Even if it wasn't buggy, the laggy interface is very annoying. Don't shell out $39 for this.
Because I don't have a large movie collection, I don't know of very many freeware programs that do the same thing of DVD Chief. I do, however, know of EMDB — give it is a try if you need functionality like DVD Chief without the price or issues.
Price: $39
Version reviewed: 1.20 build 173a

Supported OS: Windows XP/Vista/Win7
Download size: 26.6 MB

VirusTotal malware scan results: 0/46
Is it portable? No
Related Posts