dotTech has two articles on best free screenshot tool and best free screen recorder program for Windows. However, if you still have not yet found a screenshot and/or screen recording program that makes you happy, Ashampoo Snap is another option. Let's see if it is worth your time.
WHAT IS IT AND WHAT DOES IT DO
Main Functionality
Ashampoo Snap is a screenshot tool that captures screenshots plus has screen recording capabilities. It also has a built-in basic image editor which allows you to modify your screenshots after you snap them (no pun intended).
Pros
Has the ability to take screenshots or record screen
Has the following screenshotting methods:

Scrolling window

Scrolling window has three modes, freestyle, website, and text. Freestyle allows you to specify a specific part of your screen to be captured while the window is scrolled, text mode is for when you want to capture a scrolling window that has mostly black text on white background, and website mode is for any type of scrolling window or webpage

Single window (capture any single, open window)
Free region rectangle (capture any rectangular region)
Free region freestyle (capture anything — you just draw the region you want to capture)
Fixed region (you select one of the many pre-set region sizes and capture using that)
Menu capture (allows you to easily capture drop-down or pop-out menus)
Timed capture (tells Ashampoo Snap to automatically capture a screenshot after X seconds or keep automatically capturing screenshots every X seconds until you tell it to stop)
Desktop (whole screen)

Has the following screen recording methods:

Single window
Whole desktop
Free region rectangle
Fixed region
Webcam

Has a built-in image editor which can be used to edit screenshots after they have been taken (doing things such as adding text, blurring out objects, highlighting things, etc.)
Screenshots can be snapped in 'single' mode (one screenshot at a time) or 'multiple' mode (one screenshot after another, and all are sent to the editor at the same time after the last one)
In addition to recording your screen, screen recording has the ability to capture sound from your sound card (i.e. whatever you would hear from your speakers) or to record sound from your microphone
Screen recording has the ability to temporarily zoom-in to your mouse area while recording
You can choose to capture — or not to capture — mouse cursor when screenshotting or screen recording
Screenshots can be saved as BMP, JPG, PNG, PDF, or an Ashampoo-specific format
Videos can be saved as AVI or WMV
Allows three ways for users to activate screenshot and screen recording functionality: a pull-out toolbar, system tray icon, and hotkeys
Screenshots shared via Facebook or email, saved locally, printed, or sent to Windows Clipboard. Videos can be shared via YouTube or email, or saved locally.
Has very helpful on-the-spot tips/guides on what each feature does and how to use it
Very reasonable price
Cons
Goes into an annoying full-screen mode after you capture something (aka when you are at the editor/the place to save). There is no minimize ability when you are at this screen; the only way to switch to a different window or task without losing your captured screenshot or video is to Alt + Tab (or to save the screenshot/video, after which the program comes out of full-screen mode and returns you to your work).
There are no basic video editing capabilities. While I'm not asking for a built-in video editor, there should at least be the ability to trim recorded videos, which would assist in removing content at the start/finish that has been unintentionally recorded.
Videos can only be saved as AVI or WMV; other popular formats, such as FLV and MP4, are not supported
Screenshots cannot be saved as GIF and there is no ability to compress screenshots (e.g. select the quality level of output JPGs or select compression level for PNG)
Sets itself to automatically run at Windows boot. You need to manually disable this behavior from options. (Not very many people, myself included, want a screenshot/screen recording program automatically start at boot. We only want it running when we need it.)
No hotkey support for starting a screen record
Timed screenshot capture only works with single window, desktop, or free region rectangle — it doesn't support the other screenshot methods
No ability to customize or modify how the during-screen-record-zoom works, aside from modifying its hotkey
Discussion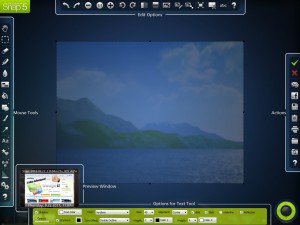 Ashampoo Snap is a screenshot and screen recording program. As listed above in the 'Pros' section, Ashampoo Snap has multiple ways to capture a screenshot or record your screen. While most of the screenshot/screen record methods are non-unique (i.e. available in other screenshot programs), I was pleasantly surprised to see timed capture, menu capture, and freestyle scrolling window capture.
In particular, menu capture is an interesting feature which aims to making screenshotting drop-down or fly-out or pull-down menus easy to capture. It does this actively modifying the screenshot area as you float your mouse over and open menus. Eventually you end up taking a rectangular screenshot of the whole menu with all the sub-menus, if you have them opened. This method isn't perfect (because you still capture the background behind menus) but is it handy.
Timed capture is also interesting not only because it allows you to set Ashampoo Snap to automatically take a screenshot after X seconds (anywhere from 1 to 30 seconds), but it also has the ability to have Ashampoo Snap automatically continue to snap screenshots every X seconds (every second, every other second, every 5th second, every 10th second, every 20th second, every 30th second, every minute, every other minute) until you tell Ashampoo Snap to stop.
Freestyle scrolling window capture caught my eye because it adds a unique twist to the ability to capture scrolling window. You see all competent screenshot programs have the ability to capture scrolling window, such as website; that is nothing special, and Ashampoo allows for the same. However, Ashampoo goes one step further and adds the ability to capture only a specific portion of the scrolling window. For example, if you were to capture http://dottech.org, you could use freestyle scrolling window mode to only capture the sidebar on http://dottech.org instead of the whole scrolling page. Pretty nifty, if you ask me.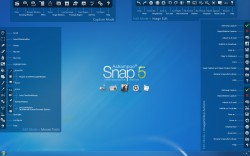 Regardless of which type of screenshot method you use, after you capture a screenshot the screenshot (or screenshots, if you do it in multiple mode) are set to Ashampoo Snap's built-in image editor. The image editor is obviously not Photoshop quality but rather an editor aimed at allowing you to modify screenshots. If you look at the image to the right of this paragraph, you will see all the tools the editor has but I will name what I feel are the most significant: the ability to add text, the ability to blur, and the ability to highlight.
Once you are happy with the images you have, from this editor you can either save the screenshot(s) locally (as BMP, JPG, PNG, PDF, or an Ashampoo-specific format — no GIF supported, plus no ability to control compression of output images), share via Facebook, or print, or send screenshot to Windows Clipboard.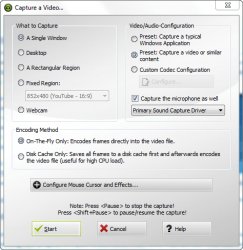 Capturing videos with Ashampoo Snap is a bit different in the sense that you must first opt to use the capture video option then you must chose how you want to capture the video. The most notable options to select here is the region you are going to capture (or your webcam) and what type of audio you want to capture — the audio you hear from your speakers or your microphone.
A very interesting and useful feature of Ashampoo Snap when capturing screen is the ability to temporarily zoom-in to your mouse. If you press F10 while capturing a video, Ashampoo Snap zooms into a rectangle area surrounding your mouse. Tap F10 again the Ashampoo Snap zooms out to regular view. This is extremely useful for people who want to specifically point out stuff in a video.
Once you are done with a video, it is also sent to the same above-mentioned editor. The difference is, however, that there are no video editing capabilities what-so-ever; from this editor you only have the ability to save the video, reject the video, share via Youtube, or share via email. While I'm not looking for Ashampoo Snap to have an advanced video editor, it should at least have the ability to trim captured video to allow users to get rid of undesirable content that may have been accidentally captured at the start or beginning of the capture.
CONCLUSION AND DOWNLOAD LINK
Overall, Ashampoo Snap is an excellent (excellent) screenshot and screen recording program. Sure it has places where it can improve (by two biggest gripes are the fact that it goes into full-screen mode after a capture and the lack of ability to trim captured videos) but, in the grand scheme of things, those are complaints that either a) may not bother other people and b) can be worked with. Plus the price for Ashampoo Snap is very reasonable — $9.99 for v5 (which is the version reviewed in this article) or $19.99 for v6. While $19.99 is nothing special, that $9.99 price for a top-quality program is a bargain.
Now, does that mean I recommend Ashampoo Snap? It depends. You see for home/noncommercial users, there are plenty of great freeware programs that can be used. So, yes, while Ashampoo Snap is good and not too expensive, there is no reason to purchase it if you only want it for home use because you can grab excellent programs like PicPick (screenshot) and ActivePresenter (screen recording) for free. Check out dotTech's articles on best free screenshot tool and best free screen recorder program for Windows to learn more.
If you are a commercial/business user, however, at $9.99 Ashampoo Snap 5 is a great value. (Ashampoo Snap 6 is good, too, but at $19.99 you have other options you can look at… other options that give bulk license discounts.) If you need a screenshot and screen recording program for commercial use, Ashampoo Snap (v5 or v6 — whichever you want) is a very viable option.
Price: $9.99 for v5, $19.99 for v6 (or $17.99 for v6 if you purchase v5 first then upgrade to v6 for $7.99)
Version reviewed: v5.1.5
Supported OS: Windows XP/Vista/Win7/Win8
Download size: 21.2MB
VirusTotal malware scan results: 0/42
Is it portable? No
Ashampoo Snap 5 homepage | Ashampoo Snap 6 homepage
Related Posts