The ability to record screen activity and gameplay are undoubtedly an important part of digital media today due to the entertainment value as well as educational value of this feature.  As a result, several tutorial and instructional videos are made by recording the activity occurring on the author's computer screen. It can be seen that screen captured videos are a large part of the complement of sites such as YouTube today. These screen recording functions are enabled by programs such as the four reviewed here today. Below are the best free screen recording programs available for Windows, however as you already know, only one program will take the title of Best Free Screen Recording Program.
[Note: If you are looking for screenshot programs, check out dotTech's review on best free screenshot program for Windows.]
This review is part of our Best Free Windows Software section. Check out more articles on the best free Windows programs from here.
Table of Contents
Best Free Screen Recording Program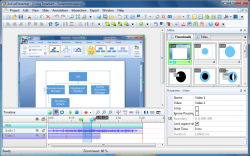 Program Name: ActivePresenter
Developer: Atomi Systems, Inc.

Download Size: 31.6MB
Version Reviewed: 3.7.2
Requires: Windows XP/Vista/Win7/Win8
Pros
Allows you to record screen capture for the purposes of showing something on your screen, doing a demonstration (i.e. teaching something), or to capture a streaming/playing video
You can record your whole screen, a specific window, or a rectangle region that you define
Has a mode that allows you to take still screenshots while recording your screen
Has the ability to automatically follow and pan along with your mouse cursor while recording
Gives you the option to not capture mouse cursor and, if you do decide to capture mouse cursor, has the ability to highlight the mouse cursor during videos
Gives you the option of recording all sound that passes through your sound card (i.e. what you hear from your speakers) or to record via your microphone (i.e. so you can narrate while screen is recorded)

The ability to capture audio along with video means you can use this program to record online streaming videos

Has a built-in video editor that has very extensive video editing capabilities. Via this editor, you can perform edits such as cut/trim, crop, delete, join, change volume, split, add annotations, add zoom-n-pan effects, highlight mouse path, sync audio with video, add highlights, add text, record narration (after capturing the video), and more.
Videos can be exported as WMV, AVI, MPEG4, WebM, and SCORM 1.2/2004
Screenshots can be exported as JPEG and PNG
Supports hotkeys
Cons
Has a steep learning curve

Has multiple different capture modes and the names of these capture modes (or what they are) is not very self explanatory. New users will, without a doubt, be confused as to which mode(s) to use. (The good thing is the 'Help' file is very helpful in explaining what each mode is and what it does.)
After you capture a video, you are sent to the video editor. This video editor is extremely busy and will confuse new users.

Does not show any sort of "Get ready, capture starting in 3… 2… 1…" screen when you start a new screen recording.
Does not have ability to record webcam and include webcam recording with your screen recording
Has the ability to highlight mouse cursor but does not have the ability to highlight mouse clicks
Free version is free for home and non-commercial use only. If you want to use for commercial or business use, you need to pay for Standard or Professional, both which are extremely expensive ($350 and $450, respectively, or $99 for Professional for students, teacher, educational institutes and non-profits). See BB FlashBack Express for a screen recorder that is free for everyone.
Free version doesn't have all the features of Standard/Professional. The two most notable areas where free version is lacking is exporting to different formats (e.g. free version cannot export to FLV) and the ability to add interactivity to a video. The image to the right of this bullet point explicitly lists out the differences between all the versions.
There are no separate installers for the Free, Standard, and Professional versions. As such, you will find some options/features in the free version that are actually not available in the free version, such as exporting to FLV. If you try use these options or export to formats that the free version does not support, output videos will have a watermark. If you only use the free version options and export only to the output formats supported in the free version (WMV, AVI, MPEG4, WebM, and SCORM 1.2/2004), there is no watermark.
Discussion
I have one word to describe ActivePresenter: wow! This easily the best video/screen recording programs I have ever used.
What makes ActivePresenter awesome is not necessarily its screen recording capabilities, although they are rather impressive… especially the ability to take still screenshots while recording a program, the ability to automatically pan the video with your mouse cursor, and the ability to record all sound that you hear from your speakers or record via microphone. What makes ActivePresenter awesome is the video editor it comes with.
You see after you record your screen with ActivePresenter, it sends the video to its built-in video editor. From this video editor you can perform simple to advanced functions, functions such as cutting/trimming, cropping, modifying the volume level of recorded sound, adding zoom-n-pan effects, adding annotations, adding text, highlighting something, insert overlaying images/videos/audios, insert closed captions, insert shapes, and much more. Really it is hard to ask for more in a free screen capture program.
When you are happy with your video, you can export it as AVI, MP4, MPEG4, WebM, SCROM 1.2/2004 with the ability to control output quality and the option to export closed captions a subtitles .SRT file. (While it is true supported output format is limited, you can always use a freeware video converter to convert your videos to another format after export.)
Really the only downside to ActivePresenter is that it is so featured-filled, it can confuse new users. Indeed, when you first use ActivePresenter you will most likely feel overwhelmed. However, as you use ActivePresenter more and more, you will get the hang of the program and be less intimidated. Plus the program has an excellent 'Help' file which you can reference if you don't understand something.
Overall, ActivePresenter is a *brilliant* screen recording program. Really you need to look no further than this gem. The only reason you should not grab ActivePresenter is if the learning curve is too high for you. If that is the case, then check out BB FlashBack Express.
[Thanks Hamza for tip on ActivePresenter!]
Runner Up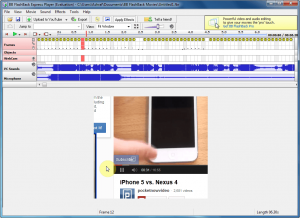 Program Name: BB FlashBack Express
Developer: Blueberry Software

Download Size: 12MB
Version Reviewed: 4.1.1 Build 2498

Requires: Windows 2000 and higher

Pros
Allows you to capture whole screen, specific window, or a user-defined rectangular region
You can record all sound from sound card (i.e. what you hear from your speakers), record from your microphone, or record from sound card plus record from microphone on top of that

The ability to capture audio along with video means you can use this program to record online streaming videos

You can include a recording of your webcam with the recording your screen (i.e. you can record both at the same time and include them both in you video)
Has the ability to highlight mouse cursor and mouse clicks
Can crop videos
Can trim the beginning/end of videos to exclude stuff you didn't intend to capture (you do this while exporting)
Shows a countdown timer before actual recording of screen starts, giving you time to get ready
Can export videos as FLV, SWF, or AVI and save locally to your computer to upload directly to YouTube, Blip.tv, Revver, Viddler, Coggno, or FTP server
Very easy-to-use
Express version is free for everyone — home and commercial users
Cons
Express version does not have all the features as Standard and Professional versions. Most notably, Express does includes no video editing capabilities aside from crop or trim — no features like annotation, zooming, panning, etc. See the chart to the right for the exact differences between versions.
You must register with the company (which includes providing your name and e-mail) if you want to use the free version past 30 days.
Discussion
BB FlashBack Express is another excellent screen recording program.
The main difference between BB FlashBack Express is ActivePresenter has more video editing feature (much more video editing features). However, BB Flashback Express one-ups ActivePresenter in the area of being able to include a recording of your webcam with your screen recording, showing a countdown before actual recording begins, and user-friendliness. Indeed, BB FlashBack Express is much easier to use with an easier-to-understand interface.
If I were to provide two sentences to help you decide between BB FlashBack Express and ActivePresenter, it would be the following. Use ActivePresenter if you want to do advanced screen recording, such as a demonstration that requires include zooming/panning and annotations. Use BB FlashBack Express if you are looking to do a simple recording of your screen, something that requires no editing or advanced funtionality.
Honorable Mention 1
Program Name: Ezvid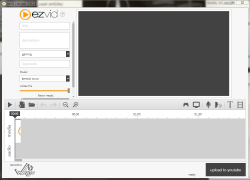 Developer: Ezvid Inc.
Download Size: 1.41MB
Version Reviewed: 0.9.1.2
Requires: Windows XP S3/Vista/7/8
Pros
Includes a video editor
Allows for direct upload to Youtube
Allows for simultaneous screen and voice recording
Ability to synthesize a body of text into narration
Ability to draw over recordings
Allows for addition of music to recordings
Allows for users to film themselves with a webcam during screen recording sessions
Cons
Users cannot add their own music files
All videos are 1280 x 720 resolution — no ability to modify this
Comes with a lot of bundled crapware
Has no offline installer. The 1.41 MB download needs an active internet connection to download more Ezvid files during installation.
Discussion
Ezvid is a very capable screen recording program which provides users with the ability to handle all aspects of their screen recording needs from the capturing of the video to any editing which needs to be done and the program even allows for direct upload to Youtube.
Users are given the choice of recording with either basic settings or advanced settings. Basic settings allow users to simply get to the business or recording videos with no extra features added. If the advanced capture mode is selected however, users are given the options of enabling the ability to capture audio during the screen recording process, enabling headset mode, enabling transparent screen capture controls, choosing the area of the screen to be captured and enabling simultaneous webcam capture.
After screen capturing is completed users can edit their videos with Ezvid for upload to the internet or just for storage on physical media. Additional elements can be added to the screen captured video such as a video clip from another source, text, images or a set list of audio files. The elements being edited are laid out on a timeline which is typical of a video editing program.
After video editing is completed the choice is given to upload videos to the ever popular Youtube and users are provided with fields for inputting the title, descriptions, categories and keywords for the videos in order to make the upload of videos as smooth and seamless as possible.
Although Ezvid provides users with all the features needed to produce decent screen capture videos it is lacking in some aspects. Yes it does cover all aspects of producing the video but users are not given the option of choosing the output resolution of their videos but are instead stuck with the 1280 x 720 format. Additionally there is no option which allows for high definition output. Users are also limited to the set list of audio files which come with the program but it should be noted that copyright issues have played a major role in this limitation therefore much better could not be done by the developer unless companies such as Viacom were to change their tough stance as it relates to this type of media.
With that being said Ezvid provides users with an all-in-one solution for creating their screen captured videos and there is no need to look for other software to complete tasks such as editing. This is hard to beat when it comes to a screen recording program.
Honorable Mention 2
Program Name: TipCam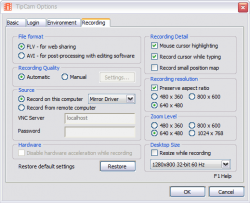 Developer: UTIPU INC
Download Size: 5.41MB
Version Reviewed: 2.2.0.4248
Requires: Windows XP/Vista
Discussion
Tipcam is a screen recorder which offers users a wide variety of options for producing high quality web-standard video or otherwise.
The main menu of Tipcam offers users users the usual record, playback and save options as well as zoom, edit, upload, discard and an option to upload files privately. The zoom option is self-explanatory while the upload option allows users to either upload video to utipu.com or to Youtube. The edit function gives users the option of adding a voice over or "trimming" the length of recorded video. Users have a great degree of control over the video which is output. For example, users can choose audio input devices, choose to set uTIpu.com or Youtube as the default video upload sites, set hot keys for various functions, choose whether to output videos as .FLV for web sharing or .AVI for post-processing with editing software, set the recording quality, choose to record from a remote computer, change the resolution or change the zoom level.
These options make TipCam a very effective screen recorder but there are some issues that I had with it however. Firstly when a recording is being made in Windows 7, the colour scheme is changed to basic which is rather annoying. Also  Tipcam doesn't offer features such as the video editor or simultaneous web cam recording which can be found in Ezvid. Therefore, although it is a great program, it doesn't offer the appealing total package of Ezvid.
With everything in perspective, Tipcam will fulfill all of the screen recording needs of most users and offers them a simple one click share/record layout.
Honorable Mention 3
Program Name: ScreenTwin
Developer: Elecard
Download Size: 5.75MB
Version Reviewed: 1.0
Requires: Windows 2000/XP/2003/Vista/7
Discussion
ScreenTwin is a very effective  screen recorder and provides users with the essentials needed to create high quality video content
When ScreenTwin is opened, the only evidence that it is indeed open is the small square icon in the system tray. Right clicking the icon brings up options such as run/stop and settings. Users can also choose to double-click the icon to start recording or to enable recording as soon as the program is opened. In settings, options such as the height and width of the recorded area can be adjusted or users can choose to record the full screen area. ScreenTwin also gives users the option of enabling the recording of audio input from a selected source such as a microphone and the ability to adjust the quality of the video output. Perhaps the most interesting feature of ScreenTwin is the ability to stream video to a network location. Of course if this is not desired users can also choose to save recordings to a specifiec location on their hard drives. In addition the entire process of capturing, transmission and playback of recorded video takes a very short period of time and after recording my screen for a period of time, I immediately went and searched for the video in the location I specified videos to be saved to and it was there already processed and encoded. This feature is attributed on the developer's website to Elecard Low Delay Codecs.
Although ScreenTwin has proven itself to be a very effective solution for screen recording there are some issues with it. It does do its job of screen recording very well but unlike Ezvid it doesn't offer users options for altering the video after it is actually recorded or during recording. For example options such as simultaneous web cam recording and video editing are unavailable which leaves users to rely on other programs in order to produce a fully polished video.
Aside from these issues ScreenTwin is clearly a brilliant choice for a screen recording program.
Honorable Mention 4
Program Name: YouRecorder Free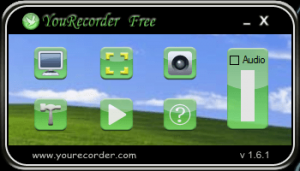 Developer: JianChao Zhou
Download Size: 1.33MB
Version Reviewed: 1.6.1
Requires: Windows 2000/2003/XP/Vista/7
Discussion
Don't let YouRecorder Free's simplicity fool you, it is quite the powerful screen recording program.
YouRecorder Free is capable of recording the full screen area, a region of the screen or simply taking screen shots of a specific area of the screen or the whole screen. YouRecorder Free also allows you to simultaneously record audio while recording the screen. Users are allowed to set the frame rate, size of video and quality of the outputted video as well as the quality and volume of the audio. Additionally there are several parameters for assigning hotkeys for various functions such as the starting and stopping of recording.
YouRecorder Free is great at the things that it does do but it lacks some functionality such as incorporating additional media into the screen captured video. In addition even though it allows a certain degree of customizability of the outputted video, it does not offer as many options in this regard as TipCam which offers more options for setting the resolution and dimensions of the captured video.
YouRecorder Free as stated before is simple but powerful and would be ideal for applications which do not involve many variations.
Other Alternatives
Related Posts