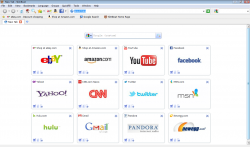 I am a firm believer that there are great browsers out there that many of us have not tried. Don't get me wrong, I like Chrome and Firefox as much as the next guy. That being said, I enjoy using SeaMonkey and Maxthon more. However, there are still a number of browsers I have not tried, and one of them is SlimBoat. After hearing from dotTech users that there is a SlimBoat version, I'm very interested to say the least. I have tried other portable browsers, and they were crap. So let's see how SlimBoat stacks up!
WHAT IS IT AND WHAT DOES IT DO
Main Functionality
SlimBoat is a full-featured, portable browser. It is shockingly fast and comes bundled with some very helpful features, like an ads and pop up blocker, Facebook integration, and a YouTube downloader. The navigation time between webpages is small, and it prides itself on using few system resources.
SlimBoat works on Windows, Mac OS X, and Linux. We specifically reviewed the Windows version.
Note: Please realize that there is an inherent risk in using a web browser from a relatively unknown developer. If the developer of the browser is malicious in anyway, all your internet activity and logins and personal information can easily be stolen by the developer. We are not saying SlimBoat is a malicious program. This is just a general cautionary note about browsers. Proceed further at your own risk. dotTech and its writers are not responsible for any gain or harm incurred.

Pros
Full-featured, portable web browser
Offers popular integrated tools, like an ads and pop up blocker, webpage translation, YouTube downloader and weather forecast information
Offers Facebook integration to easily share pictures and text on your Facebook page
Light-weight and won't hog your system resources
Quickly navigates between web pages
Allows you to import bookmarks from other browsers during setup
Cons
Slight bog down when playing heavy Flash-based games
Discussion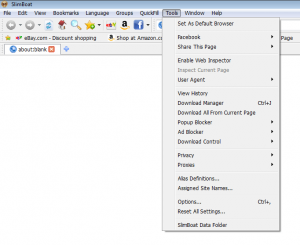 I am on the internet a lot, so I tend to be picky about my browser. I have tried other portable browsers before, and none of them lived up to my standard. So when I heard that SlimBoat had a portable version, I was looking forward to giving it a try.
For those of you who don't know, SlimBoat is a very light-weight browser based on the webkit rendering engine. As with other browsers it is available for multiple platforms, but we are trying out the Windows-based one here today. The browser prides itself on three major things: Being fast, being secure and coming bundled with a lot of great features. To my surprise, it was able to hit on all three of these key areas.
When I first started up SlimBoat it took me through a little mini setup. It asked me basic question like: "Would you like to set SlimBoat as your Default Browser?" and "Would you like to import bookmarks?" This was a great way for the program to start out, because it takes the guesswork out of trying to figure out where to go to do these kinds of things. For anyone who has used as many browsers as I have, you already know that many of them list this kind of information in different locations.
From there, I started surfing the net. The default homepage brings you to a Google custom search and some popular websites listed below it. Not really a big fan of Google's "custom" searches, but your homepage can be easily changed, so no big problem here. As I started visiting all my favorite web pages, I couldn't help but notice how quick the browser loaded them. I would say that it is as quick, if not maybe a little quicker than, SeaMonkey, which is already faster than other popular browsers like Firefox.
The biggest problem I had with the program came when I visited some sites that had big Flash games on them. Although the program ran smaller Flash games perfectly, I noticed it struggling a bit with larger ones that had a lot going on. This doesn't happen with my other browsers, so I have to assume it was SlimBoat.
After that, I started checking out the features this program comes pre-bundled with. This includes things like Facebook integration, a YouTube video downloader, an ads and pop up blocker and even a little weather forecast widget. Adjusting these tools is as easy as clicking on the "Tools" tab and selecting "Options". This will bring you to a small screen that will allow you to adjust these features as you see fit. The ones that I tried out all worked great, which was refreshing. On top of that, I loved the fact that they came pre-installed, as many of these "features" are things I choose to add on to my other browsers anyway.
CONCLUSION AND DOWNLOAD LINK
Overall, I can say that SlimBoat is, by far, the best portable browser I have used. There may be a better portable browser out there, but if there is, I haven't stumbled across it yet. During my time with the portable browser, it did not freeze or crash. If you are looking for a good portable browser, I cannot recommend SlimBoat enough.
Price: Free
Version reviewed: 1.1.23
Supported OS: Windows XP/Vista/2003/2008/7/8
Download size: 9.75MB
VirusTotal malware scan results: 0/46
Is it portable? Yes
Related Posts