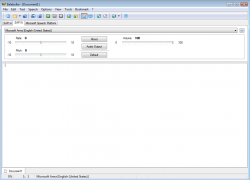 From time to time, I like to use text to speech programs. However, I never use them enough to actually need one that you have to install. In fact, I usually find myself wanting to use the program more often when I'm "on the go". So that brings us to Balabolka. With kind of an odd name, if it does what is says it will do, I'll call it whatever it wants me to.
WHAT IS IT AND WHAT DOES IT DO
Main Functionality
Balabolka is a portable text to speech reader that can be run from a USB memory stick. In truth, it can be run from pretty much any portable device you have. The program promises you quality that you would normally only see in a paid text to speech program.
Pros
Portable and can be run from a USB memory stick
Allows users to save text files as WMA, OGG, MP4, WAV and MP3
Is able to read your clipboard content
Able to open and read documents that have been saved as RTF, PDF, DOC, EPUB, FB2, HTML and ODT
Auto detects any TTS voices you already have installed on your computer
Shockingly accurate for a free text to speech program
You can customize how the program reads text by adjusting pauses, speed and how the program deals with "unusual words"
Cons
As with most text to speech programs, some words are still hard to understand if you are not reading along with the program
Adjusting and customizing the speech takes a bit of trial and error
Discussion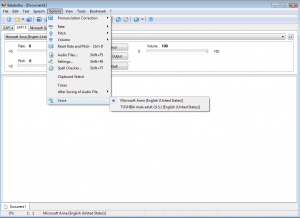 I was actually pretty impressed with Balabolka. I have tried other free text to speech engines, and they were terrible…and you had to install them! I couldn't imagine the quality I was going to get out of a program that was completely portable. But to my surprise, it is by far the best text to speech program I have used.
Setting up this program is about as easy as possible. Simply download it from the link at the end of this article, move the downloaded package to wherever you want the program located (like on a USB drive) and then unzip it. You are good to go.
From there just simply launch the program and wait for it to boot. Once it comes up, you will see that you have some empty white space at the bottom and a lot of different controls at the top. If you just want to test the program out, start typing in the empty space or copy some text you find online and post it into the program. Once you are done, go to the top of the program and click the green arrow to play it.
If that was all there was to it, the program would still be pretty decent. However, what makes it better than most is all of the options you are given. You are actually able to adjust the speed and pause of the "voice" reading your text. You can even adjust how the program handles what it refers to as "unusual words". Chances are, you are not going to adjust the voice how you like it your first try. However, after some trial and error you can actually get it sounding pretty good.
The program will allow you to save the text in the following audio formats: WAV, MP3, MP4, OGG and WMA. Besides typing and pasting words into the program, you can even have it open documents. It is able to read the following file formats: DOC, EPUB, FB2, HTML, ODT, PDF and RTF
As with other text to speech programs, this one is able to detect TTS voices you already have on your computer. On my computer, I have two: Microsoft Anna (which comes with most Windows systems) and Toshiba Male Voice…since I own a Toshiba. However, if you don't like the voices on your computer, you can easily download more, and this program can use them. I tend to find the female voices easier to understand, but everyone is different.
For the most part, I did not have a program with the program. It is worth pointing out that some words are still hard to understand no matter how much you adjust the settings. Overtime I think you can train yourself to understand these robot voices, but I am not all the way there yet.
CONCLUSION AND DOWNLOAD LINK
If you're looking for a free and portable text to speech reader, I recommend you give Balabolka a try. The program is easy to use, and all of its customization options are impressive. It may not be the best text to speech reader out there, but it is the best I've stumbled across so far. I recommend it for anyone who may be in the market for one.
Price: Free
Version reviewed: 2.6.0.538
Supported OS: Windows XP/Vista/7/8
Download size: 6.75 MB
VirusTotal malware scan results: 2/43
Is it portable? Yes
Related Posts