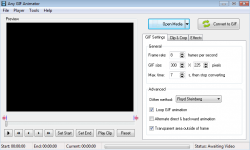 Animated GIFs…we all love them. They are becoming a very fun way to express an "idea" or "feeling" online. Usually, they express a feeling a lot better than what words can…and they are typically pretty funny. However, if you are like me, you may not be the best at making animated GIFs. So I went on the hunt for a program that could help me make some, and I came across Any GIF Animator.
WHAT IS IT AND WHAT DOES IT DO
Main Functionality
Any GIF Animator is a program that will help you create animated GIFs from video files. The program can create these GIFs from files that are stored on your computer, or even from YouTube. It works with the following video types: AVI, MP4, MPEG, WMV, MOV and MKV.
Pros
Create animated GIFs from files stored locally on your computer
Can create animated GIFs from videos on YouTube
Works with the following movie formats: AVI, MP4, MPEG, WMV, MOV and MKV
Offers an online video tutorial to walk you through how to use the program
Can crop the video right from the preview screen
Add text to any GIF
Cons
Media Player Codec is required for this program to run
I found myself wishing it supported more input video formats
Discussion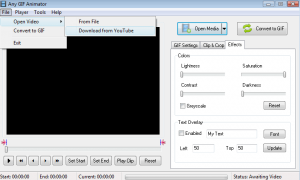 Any GIF Animator was a program that I was really looking forward to trying simply because I'm not great at making GIFs. I wanted a program that could make this process easier. So let's find out how this program stacks up.
Installing the program was nothing too challenging, but I do want to point out that the program does require Media Player Codec to run. This really isn't a HUGE deal, but I do hate having to download extra things to make a program functional. Once the program has been installed and you start it up, you will see that it is really nothing special to look at, but that is fine. The options you have available to you seem to be on the "light" side, but as it turns out, there are more than enough here to give you full control over how your GIFs turn out.
What I did notice is that the program does not support too many different video file formats. Although it supports the most popular ones ( AVI, MP4, MPEG, WMV, MOV and MKV), I still found myself wishing that it offered more support. One cool feature is the fact that the program can actually download videos right from YouTube. I was actually shocked to see that it did a good job downloading videos from YouTube to turn into GIFs. I could actually see this program being used as a YouTube video downloader.
The program does include a preview screen of the video that you are watching, which is a feature that I love. Here you can actually select the part of the movie that you want to turn into an animated GIF. It is such a simple concept that I almost didn't expect it to work. Navigating the movie was simple too. It can be done by skipping at 0.1 seconds or an entire second. It was even easy to crop the video that I was previewing. The crop function is actually located right there in the video preview screen. All you have to do is simply drag the margins until you only see the section of the movie that you want to clip.
Last but not least, you have the ability to add text to your GIFs. Once again, this is nothing major, but had it been lacking this feature, it would have been a major drawback. Moving the text around the preview screen actually proved to be difficult at times, as it did not seem to move where I told it to.
CONCLUSION AND DOWNLOAD LINK
In the end, there is nothing really special about Any GIF Animator. That being said, it is a good "average" program. It will get the job done with few hiccups. Overall, this program is prefect for beginners. Pros, on the other hand, may feel that the program is a bit "limiting in nature".
Price: Free
Version reviewed: 2.0
Supported OS: Windows Vista / 7
Download size: 15.44 MB
VirusTotal malware scan results: 2/43
Is it portable? No
Related Posts