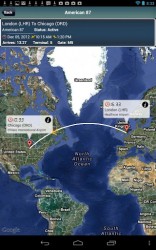 Airport is a handy flight tracker that will keep you updated will all of the essential information about your upcoming flight. This application is great for those who frequently travel on airplanes and need to potentially keep track of multiple trips at once. It could also be great for those who don't actually travel very often and need help organizing all of the information you are given with your plane ticket.
What is it and what does it do
Main Functionality
This application is simply designed to keep all of the necessary information that comes with traveling by plane in one convenient place. It attempts to cover all aspects of traveling that might be daunting or confusing to some travelers.
Pros
Available in 12 languages
View arrival and departure times
Terminal information
Flight delay assistance
Pre-flight assistance
Cons
No carrier names
No passenger count
Discussion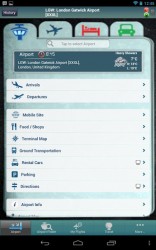 In a world where technology and air travel are becoming more and more friendly, lots of people are trying to cut back on the confusion and abundant paperwork that you may have to carry around when traveling by plane. Travelers are much more likely to lose important paperwork than they are their smartphone due to how easy it is to lose pieces of paper in large crowds. Consequently, it makes sense to try and digitize as much of your traveling plans as possible so there is less room for error. Airport is an application that aims to give you everything you need to travel right in the palm of your hand. It will aid you in exploring airports as well as all of the little things that need to get done just prior to you boarding your flight.
Airport will provide a variety of useful tools designed to aid you in the days and hours prior to boarding your plane. Like you would expect, you can track any of your flights while bouncing between up to 12 different languages. This is essential for an application like this because flights incorporate international destinations. It will provide an arrival and departure board, like you see at physical airport,s so you can see if your arrival and departure times have changed at all. Perhaps the best feature is advanced terminal information such as maps, food and restaurants, parking, ground transportation, shops, and Wifi. This makes you instantly more familiar with a foreign airport so you don't have to waste any time searching for specific locations. You will also be able to find up to date information on your check-in, flight status, baggage, and seats. This is impotent because those aspects leading right up to your flight's departure can perhaps be the most confusing and the most stressful parts of your trip.
The only flaws in this application are located in what information you can actually see and can't see. For some reason, you are unable to view the carrier name on your arrival and departure board. This is rather odd as it would make sense for this information to be displayed so you can be more certain of your flight. You also cannot see the current passenger count on your plane. This is certainly possible as there are several services that provide this information. This feature could be useful in times of curiosity when you are trying to find out more information about your flight.
Conclusion and download link
Overall, this application functions almost flawlessly and makes traveling by plane significantly easier. While the interface is a little rough and unattractive, it doesn't take away from the overall usefulness of the application. It is without a doubt one of the most informative and effective applications available in the Google Play Store that aid you during the time before your flight. It recognizes the aspect of travel that are the most annoying and time consuming and aims to make them easier and faster.
Price: Free
Version reviewed: 1.4
Requires: Android 1.6 and up
Download size: 8mb
Related Posts