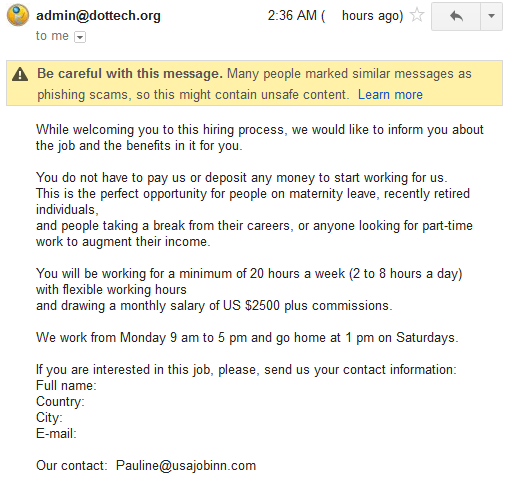 Hi dotTechies,
I just wanted to give everyone a head-up that some scumbag is using dotTech's email to spend spam emails.
If you receive an e-mail from "admin@dottech.org" that is not characteristic of the emails we send (i.e. not an article or comment notification), then the email is probably spam. Ignore it! The image above shows an example of the type of spam email I received from apparently myself, even though I know I didn't send it. I received ten similar emails (with varying different subjects but same email content), so I'm guessing others have received it too.
Our e-mail has not been compromised. Someone is spoofing our email address and there is nothing we can do about it; spoofing cannot be stopped. The good thing is most of these spam messages should be automatically sent to your spam/junkbox due to their nature. However, if one makes its way to your inbox, please do not reply to it — it is a scam.
Sorry for the inconvenience. Fake emails just comes with the territory, unfortunately. There is nothing we can do to stop it except warn our users.
-Mr. Boss
Related Posts