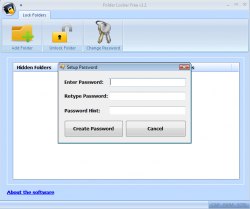 If you share your computer with others or you just really care about security, locking your folders is something that you may have already considered. There are tons of different programs out there that allow you to do this (such as Private Folder), and Folder Locker Free is one of them. Let's see how it does.
WHAT IS IT AND WHAT DOES IT DO
Main Functionality
Folder Locker Free is a program that allows you to create one default master password. Then you can add folders to your folder locker by either clicking add or simply dragging and dropping the folder onto the folder locker. After that your folder will be password protected and encrypted, as well as hidden.
Pros
Extremely easy to use
Allows you to lock folders by either clicking add or dragging and dropping your folders onto the Folder Locker window
Password protects and encrypts your folders
Hides your folders for added security
Folders are still locked and hidden if the program is ever uninstalled. Once the program is reinstalled you can unlock and see your hidden folders again.
Cons
Program offers other programs during installation (aka crapware). Pay attention, and you can avoid installing them by unchecking boxes and/or declining.
Could not get the drag and drop feature to work every time
Discussion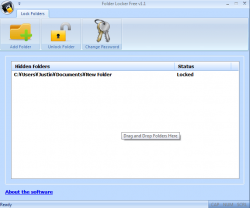 I have used a few different folder lockers in my day, but Folder Locker Free is one of the easiest I have ever used. Although a few bumps in the road keep it from being perfect, the program is still an overall strong choice for a folder locker.
First of all, the program is extremely easy to install. The only problem is, it tries to gets you to download other programs while installing (3 different programs if I remember correctly). Although this can be easily avoided, I know that many of you hate when programs do this, so I wanted to point it out.
After it is installed the program will launch and ask you to create a password. This will be your master password used to get into your folder locker to unlock your folders. Once that is set up, you can start adding folders to this locker. You can do this in two ways: clicking add and finding your folder manually or just dragging and dropping the folder you want to lock into the program itself.
Once you lock a folder, a few different things will happen. First, that folder is password protected. Second, it is now encrypted. Last, that folder also becomes hidden. This is a nice level of security, because you know what they say, "out of sight, out of mind". Of course, your folder will always be visible in your folder locker, so be sure to come up with a strong password to keep people out.
The biggest problem I had with the program was its "drag and drop" feature. Although it worked some of the time, there were times when it simply would not let me drop a folder in there. This was fixed by closing and reopening the program. The only problem was that I had to do this multiple times. It became easier just to add folders with the add button.
Last but not least, if you ever uninstall the program by mistake or it becomes corrupted, there's no need to worry. You can simply reinstall the program and pick back up where you left off. Your folders will remain hidden and password protected.
CONCLUSION AND DOWNLOAD LINK
Folder Locker Free is a great program for locking your folders. For the most part, the program works great, but its drag and drop feature is sometimes hit or miss. It's great the program password protects and encrypts your folders, as well as auto hides them. This is a great program for people who are new to the world of folder lockers.
Price: Free
Version reviewed: 1.1
Supported OS: Windows XP /Vista/7/8
Download size: 4.7 MB
VirusTotal malware scan results: 0/46
Is it portable? No
Related Posts